Look up, generate and convert your BIMI logo online
Put your brand logo on every email you send to increase brand recognition and level up your protection against phishing
LOOKUP BIMI
Learn more about BIMI
What is
BIMI

?
First step of the email deliverability success is brand confidence.
BIMI (Brand Indicators for Message Identification) permits Domain Owners to coordinate with Mail User Agents to display brand-specific indicators next to properly authenticated messages. There are two aspects of BIMI coordination: a scalable mechanism for Domain Owners to publish their desired indicators and a mechanism for Mail Transfer Agents to verify the authenticity of the indicator.
Benefits of
BIMI
For marketers:
Use BIMI to increase customer engagement rate and email deliverability
Display your logo on your customer mailbox
Apply BIMI to increase customer confidence
For IT leaders:
Standardize the transmission and use of your logo
Increase brand trust and reputation
Increase email deliverability with source reputation check
Why brands need
BIMI

?

$12.5 billion consumer and business loss from brand impersonations

Identity deception tactics usage in 66% of malicious emails is a result of impersonation of well-known brands

Customer engagement decrease in email marketing campaign
BIMI Lookup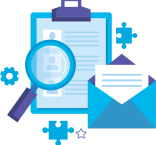 Look up and validate your BIMI record.
BIMI Logo Converter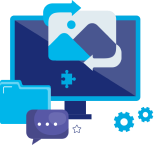 Use this tool to convert BIMI SVG images and logos to BIMI-compatible SVG Tiny P/S format
BIMI Generator

Easiest way to generate your BIMI record