Communicate DMARC to Clients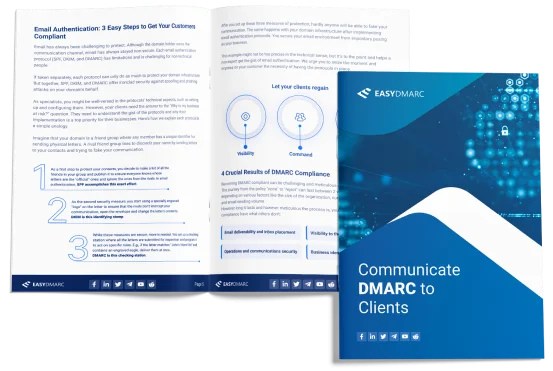 Communicate DMARC to Clients: Guide for Managed Cybersecurity Services
DMARC market is growing as increasingly more businesses realize that protecting domain infrastructure is a must. A market research estimated the global DMARC software market size at $254.56 million in 2022, and with a 37.53% CAGR, this number is going to reach $1722.74 million by 2028. This statistic basically means that there's huge profit to be made by companies that offer managed cybersecurity services.
We bring to MSPs our tried and true tactics for client communication.
What's in the eBook?
Email Authentication: 3 Easy Steps to Get Your Customers Compliant
4 Crucial Results of DMARC Compliance
What Comes After DMARC?
Top 3 Client Communication Best Practices
Don't Postpone the Conversation With Your Clients
Learn about SPF, DKIM, DMARC.
Subscribe to our newsletter.