Reputation Monitoring
Monitor Your Reputation on Email Blacklists
Avoid potential deliverability issues, and do not end up with emails failing to be delivered. Monitor IP addresses blacklists and IP/domain reputation with EasyDMARC's advanced monitoring service.
Get real-time results and be notified once your IPs/domains appear in popular blacklists.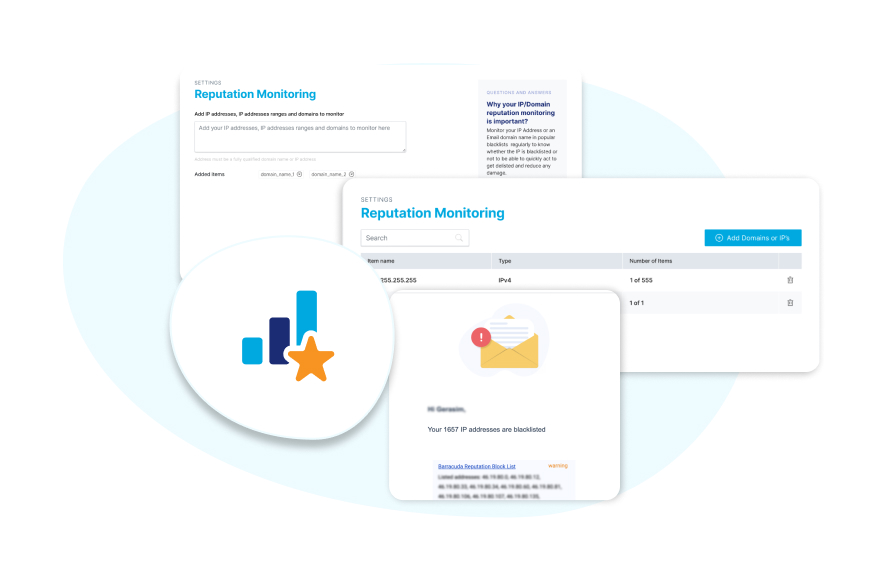 Why Monitor IP/Domain Reputation?
Just for reaching more inboxes and improving email deliverability. Keeping your eyes on your domain, IP address, and mail server reputation is increasingly important. The emails you send will probably not be delivered if your mail server has been blacklisted.
Automatically monitor your IP addresses and domains regularly to ensure you're not in any blacklist with EasyDMARC's monitoring service. We'll notify you once your added sources appear there.
How Reputation Monitoring Works
EasyDMARC's Blacklist Monitoring service provides indispensable information about your domain, IP address, and mail server blacklist status. Our system delivers automated checks and notifies you if they are found in any blacklist. You can monitor both IP addresses (IP4 and IP6) and domains.
Sign Up/Sign In to EasyDMARC
Go to the Reputation Monitoring section on the left side of your EasyDMARC account
In the blank box, input the IP addresses or domains that you'd like to monitor, and click on Save (you can add multiple domains and IP addresses at once as well)
Daily checks are run automatically, and you'll be notified whenever any of the provided entries get blacklisted.
Note:
To remove the IP/Domain from a blacklist, you'll need to contact the actual blacklist host by clicking on the IP/Domain.
Advantages of EasyDMARC's Reputation Monitoring
Reputation Monitoring is a feature provided by EasyDMARC to help its users monitor domains and IP addresses owned by the user against blacklists.
EasyDMARC automated checks run real-time. Our email alert system gives you the link to every IP blacklist provider's website. From there, you'll be able to quickly delist your domain or IP address, and mitigate any damages your email sender reputation may experience.