Phishing Link (URL) & Email Checker
Get API key
Detect phishing or fraudulent links via an AI-powered real-time phishing link checker.
Request API Key For Your
Organization!
Protect your business and employees from phishing attacks by integrating our phishing URL detection API.
Advanced phishing detection
Scalable and reliable API
Detailed reports for scanned URLs
Proactive threat mitigation
Thanks for contacting us!
We will be in touch with
you shortly.
About Phishing URL Checker Tool
Phishing URL Checker
The phishing link and URL checker tool helps you detect malicious links in emails, text messages, and other online content. By scanning any links for suspicious patterns, our AI algorithm can determine if it's a phishing scam or a legitimate source.
EasyDMARC's Phishing Link Checker ensures you don't accidentally click on malicious links that could potentially lead to identity theft or financial loss.
Our phishing site checker analyzes the link and compares it to a database of known phishing websites. If the link is identified as suspicious, the tool will alert you and provide information on the original URL, redirected URL, and URL status.
EasyDMARC's phishing link checker can help you avoid falling victim to phishing scams and keep your personal information secure.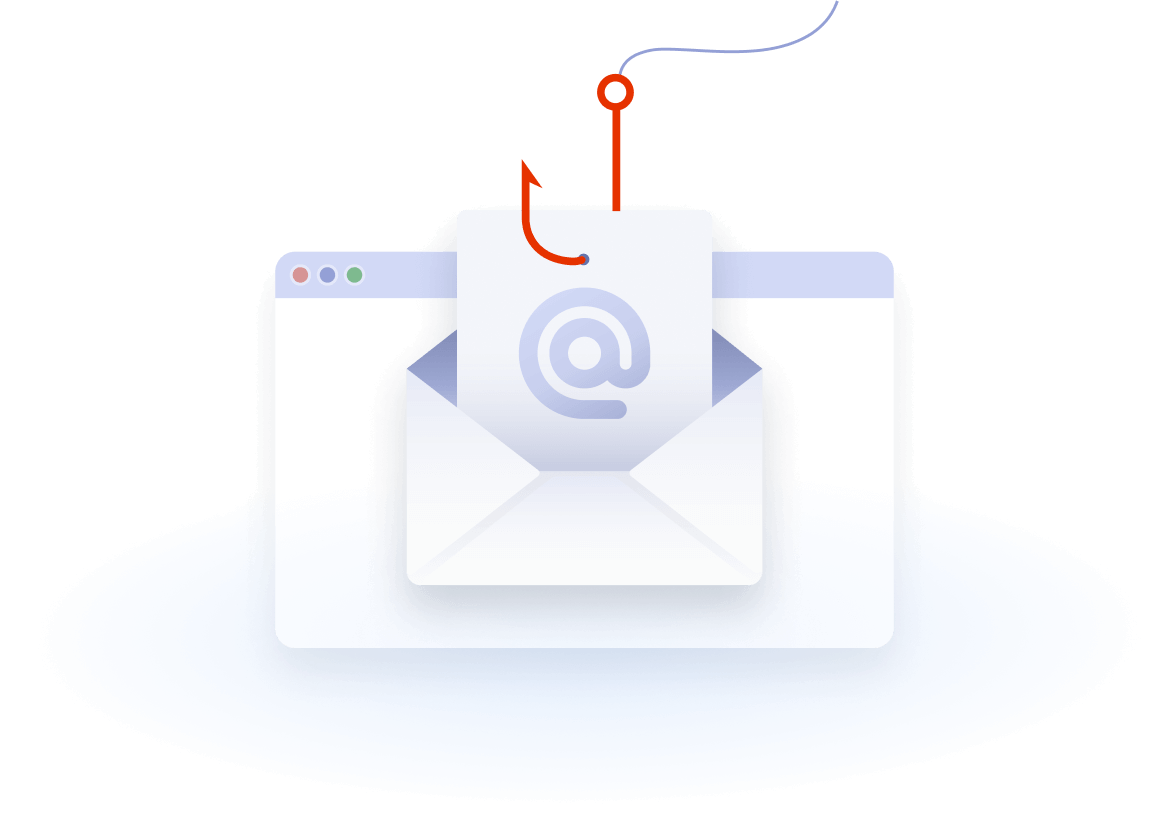 Frequently Asked Questions
How Does Phishing Link Checker Work?
Wouldn't it be magical to paste the text in a box and quickly learn whether the included links contain anything suspicious?
EasyDMARC's phishing Link checker detects phishing and malicious websites using a high-quality machine-learning algorithm. The tool parses high-quality datasets containing millions of real-time updated phishing URLs and feeds them into the model. AI reads patterns and learns to differentiate between good and malicious ones with more than 90% accuracy.
Here's how the tool works:
Extracts all URLs from the pasted text
Scans these URLs to detect any issues
Tells you whether they are "Good" or "Suspicious."
EasyDMARC's phishing link checker is a proprietary machine-learning model that simplifies email security.
How To Identify URL Phishing?
While using our tool is a safe way to eliminate the risk of suspicious URLs, you can identify phishing attempts or malicious links with the naked eye.
Ask yourself the following questions before clicking on any URL:
Is the Message Legitimate? When you receive a link directing you to another website, it can be potentially harmful unless proven otherwise.
Does it urge you to take action? This is a sign that you or your feelings are being exploited.
Who's sending you the message, and what do they want? If the request seems in any way weird, always seek verbal confirmation.
Is the message grammatically correct? Check for any blunders in spelling or grammar. It's not that hackers don't know how to spell—they just misspell words to avoid spam filters.
Does the Email Ask You for Personal Information?
If you receive an email from an unidentified institution requesting sensitive information, the chances are that it's a scam.
Does the URL Look Suspicious?
Analyze the received URL closely before engaging it. Hover your cursor on the link and check the text that displays at the bottom left of your browser. This helps identify the source, even if the display link is shortened.
Are There Any Homographs in the Domain Name?
Professional cybercriminals use letter combinations that look similar ("rn" looks like "m"), letters from foreign alphabets (Cyrillic "а" looks like Latin "a"), or numbers that look like letters ("0" looks like "O").
Is There an "S" in the HTTPS?
Websites with an SSL (Secure Socket Layer) certificate are more secure because they ensure your data is encrypted. If the link you received via email doesn't use HTTPS, avoid clicking it.
How To Protect Against URL Phishing?
A link is not always what it looks like. Cybercriminals go to great lengths to create malicious websites resembling real ones. Stay alert!
Security Awareness
Security awareness training is vital even if you rely on technology to guard your organization. Teach your employees how to check phishing URLs, avoid scams, detect malicious attachments, and deal with various attack types.
URL Filtering
Be cautious of emails and messages that ask you to click on a link or provide personal information. Always check the URL of the website you are visiting. Phishing websites often have URLs similar to legitimate websites but with slight variations. For example, instead of "paypal.com," the URL might be "paypa1.com."
DMARC Compliance
Implement DMARC and achieve peace of mind. With DMARC in place, no one can send emails from your domains. You'll also gain full visibility into how your emails are used worldwide.
How to Check Link Safety With EasyDMARC?
You can use EasyDMARC's phishing link checker by copying and pasting the URL into the search bar and clicking "Enter." You'll receive information about each link separately in a few seconds. You can also paste text containing links into the box. The tool checks for phishing URLs, simultaneously detecting and analyzing up to 20 links.
What Does a "Good URL" Mean?
"Good" is one of the outcomes of our phishing link checker. It usually means the link doesn't contain any malicious elements. Basically, it's a legit brand link and can't lead to a phishing site.
What Does a "Suspicious URL" Mean?
"Suspicious" is the second outcome that our phishing link checker tool can produce. It means the URL in question leads to a malicious website, and it's better to avoid clicking it.
Contact us to get a Phishing URL Checker API
Reduce the impact of cybercrime and safeguard your employees and customers from falling victim to phishing fraud. Gain detailed reports for scanned URLs, heightening phishing risk awareness. Get advanced, real-time, and scalable phishing detection with seamless integration of our Phishing URL Checker API.
Contact us
Explore All EasyDMARC Tools To Improve Your Domain
Security and Email Deliverability
Lookup tools
Generator tools
Other tools
Join the 45,000+ businesses growing safely with us
Make Your DMARC Journey Simple With EasyDMARC