DMARC
- A Guaranteed
Healthcare Cybersecurity
Solution
Set up your healthcare IT security to combat phishing, spoofing, and ransomware attacks.
Get in touch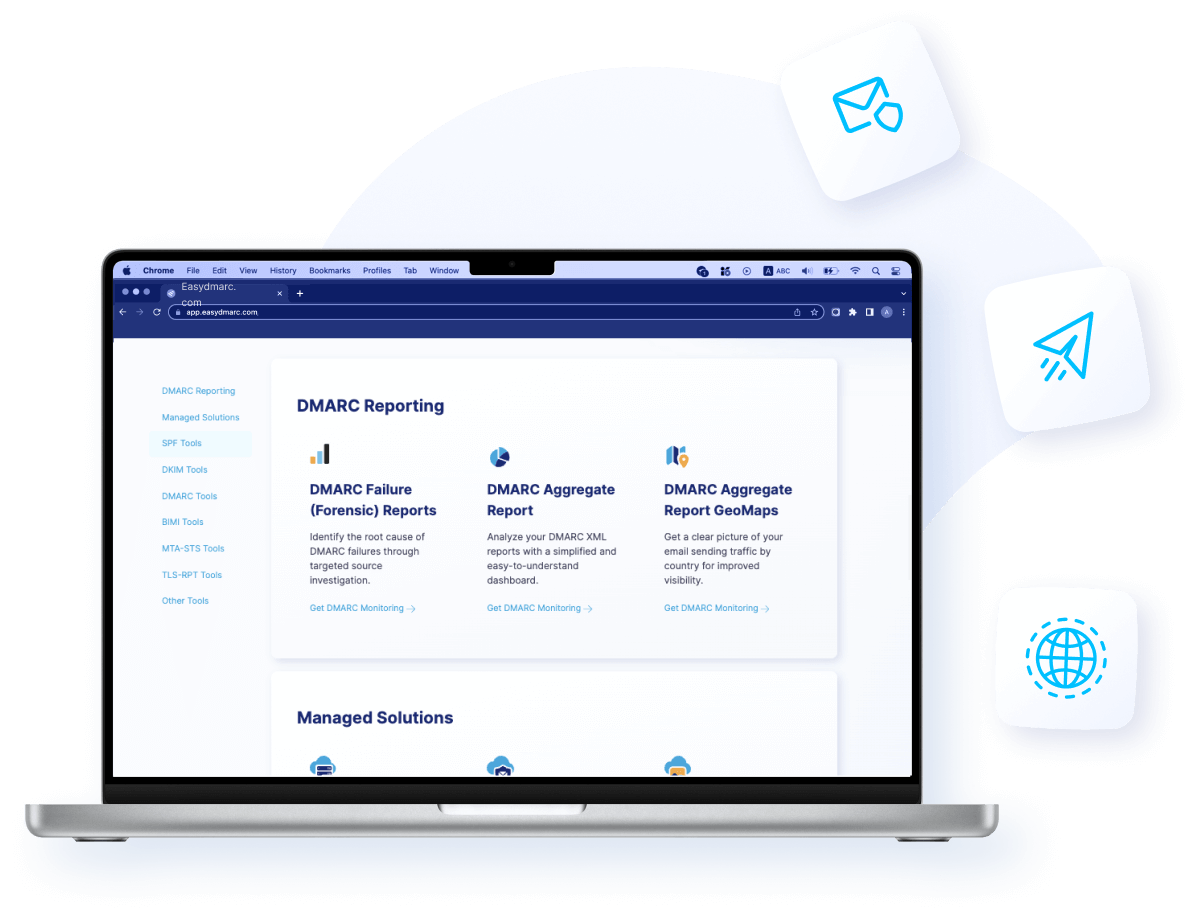 Stop Email-Borne Attacks With EasyDMARC's Healthcare Cybersecurity Services
Healthcare has become one of the most targeted industries in the world. After the Covid-19 pandemic, implementing healthcare cybersecurity solutions and following best practices has become a top priority for most organizations.
According to the US Cybersecurity and Infrastructure Security Agency (CISA), bad actors target healthcare organizations of all sizes, whether public or private, rural or urban. Also, medical organizations were a neutral zone in the past, but now, the tolerance for the healthcare sector from hackers is diminishing.
The governing bodies in healthcare institutions need to understand the risks of ransomware, phishing, medical device compromise, and other cyberattacks.
DMARC is an email authentication protocol that can help elevate healthcare cybersecurity to a new level, protecting organizations from email-borne attacks that influence vital aspects of healthcare organizations. Below are some problems healthcare cybersecurity companies need to address.
Problems Healthcare Cybersecurity Companies Face
Disrupted Patient Care
Patient health information in digital form can be seriously endangered by ransomware and phishing. Cyberattacks can impact patient databases and information exchange, disturbing the flow of seamless patient care.
HIPAA Privacy Rule
Protected Health Information is the HIPAA Privacy Rule that covers which entities possess patient information and how they use and guarantee its safety. Email-borne attacks can open the door to this type of information.
HIPAA Security Rule
This rule covers the subset of the HIPAA Privacy Rule, which includes the "electronic protected health information" (e-PHI). DMARC implementation can be the first step in HIPAA compliance by protecting email communication.
Financial Fraud
Healthcare institutions are prone to financial fraud spreading via email. Spear phishing attacks targeted at organization executives and finance team members can be devastating for healthcare institutions of all sizes.
DMARC for Healthcare Cybersecurity
We've put together a video about how healthcare institutions and their patients fall victim to phishing attacks. While the animation uses a fictitious hospital and phishing event, the situation is real – hundreds of such attacks happen every week.
Watch the video till the end to find out more about our recommended solution: email authentication.
Trust DMARC Professionals and Reach Your
Healthcare Cybersecurity Goals
Finding great healthcare security solution companies for all aspects of your organization's protection is a top priority. Setting up email authentication protocols properly and protecting your domain infrastructure is crucial. Whether you use email to contact your patients, vendors, or partners, it's the communication channel that could open doors to much more critical data like patient information databases, personally identifiable information, contracts, billing, and other information protected with HIPAA compliance
Fast DMARC
Journey
Our easy-to-use platform and friendly onboarding process will leave you knowledgeable about fixing any DMARC-related issues. You'll reach the DMARC reject policy in no time.
No Confidential
Data Required
EasyDMARC's customer journey is HIPAA compliant. We don't need any patient information to make your domain infrastructure secure. Your customer information is safe with us.
AI-Powered DMARC
Reporting
Our proprietary solution uses advanced machine learning algorithms to parse DMARC reports into a human-friendly dashboard, which makes it a breeze to work with the data.
Reputation Monitoring and Alerting
Constant monitoring is key to healthy infrastructure. Monitoring your domain helps to avoid blacklists while alerting aids in staying on top of all the vital environmental changes.
Managed SPF, DMARC, and BIMI Solutions
Email authentication can get too technical and too fast. Our managed SPF, DMARC, and BIMI healthcare cybersecurity solutions are for those with no time to learn the technical side of things.
24/7 Technical
Support
If you're still confused, our support team is always ready to help you set up authentication protocols, show you the technicalities, and lead you to a secure domain infrastructure.
DMARC Adoption in Healthcare: Compliance, Security, and Reputation
EasyDMARC's research team conducted an extensive study on the adoption of DMARC by healthcare institutions worldwide, selecting a representative sample of domains from the US and Europe, as well as the top healthcare institutions globally.
The study found that only a small percentage of healthcare institution domains have implemented the strictest level of DMARC policy, with 18% in the US, 7.2% in Europe, and 9% worldwide. This indicates a significant gap in DMARC implementation among healthcare institutions, potentially leaving them vulnerable to email-based cyberattacks.
Download our free eBook to find out insightful details and research analysis.
Download To Read
Become a Trusted
Healthcare Provider
It's time that your patients, vendors, and partners start viewing you as the trusted healthcare provider that you are. EasyDMARC is the healthcare cybersecurity solution that can ensure your domain reputation stays untarnished and your email communication is secure.
Talk With A DMARC Expert
Contact our DMARC professionals today to heal your domain environment and establish credibility through email authentication.
Get in touch with us!
Thanks for contacting us!
We will be in touch with
you shortly.