Managed DMARC
Automated DMARC enforcement for DNS configuration
A full-service DMARC implementation and management tool. Complete each step of your DMARC authentication task directly from your EasyDMARC dashboard with Managed DMARC solution.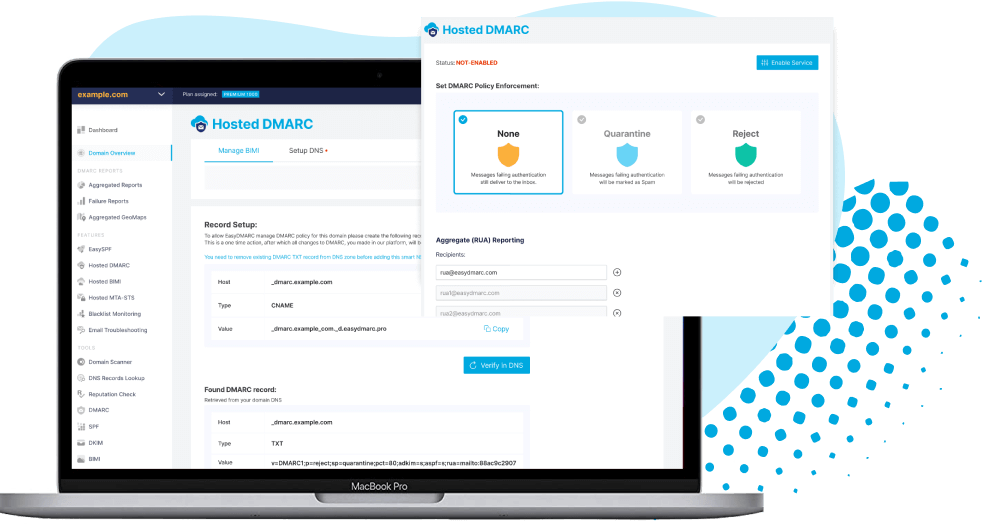 Automatic DNS configuration
Our Managed DMARC tool provides a unique CNAME record to update your DNS and start using the feature, preventing the need to visit your DNS each time.
Easy Management for MSPs/MSSPs
Simplified DMARC management. You won't need to go to your DNS zone management each time you change the records for your domains.
With a Single Click
It's as easy as selecting the domains that currently lack DMARC and clicking the desired policy button. EasyDMARC controls the DMARC enforcement for you.
EasyDMARC's DMARC processing SaaS offers a range of features and capabilities, such as:
Automated setup and configuration of DMARC records
Real-time monitoring and reporting on DMARC-related email activity
Analysis and insights on DMARC performance and effectiveness
Integration with other email security systems and services
Support and guidance for improving DMARC effectiveness
By using EasyDMARC's DMARC processing SaaS, organizations can quickly and easily implement and manage their DMARC policies, helping to protect against email spoofing and other types of email-based attacks.