Email Investigation
Save time, reduce IT costs, and get a complete DMARC configuration.
Discover what's working and what's missing from your email security, check your email sending source's compliance in no time, and speed up your DMARC policy enforcement journey.
Detect and Troubleshoot Email Problems with EasyDMARC
Analyze email headers and get comprehensive information on sending source statuses for SPF, DKIM, and DMARC. Quickly and easily determine whether your email domain is authenticated correctly, and if not, get the necessary instructions to fix the problem.
The key benefit of EasyDMARC's Email Investigation tool is its ability to help you implement DMARC protection faster. Even if you're not a DMARC expert, you can still take advantage of our Email Investigation tool's powerful insights.
If you want to protect your business from domain spoofing and phishing attacks, this tool is an essential solution, offering peace of mind about the security of your business. With this innovative inspection tool, demystifying DMARC has never been easier.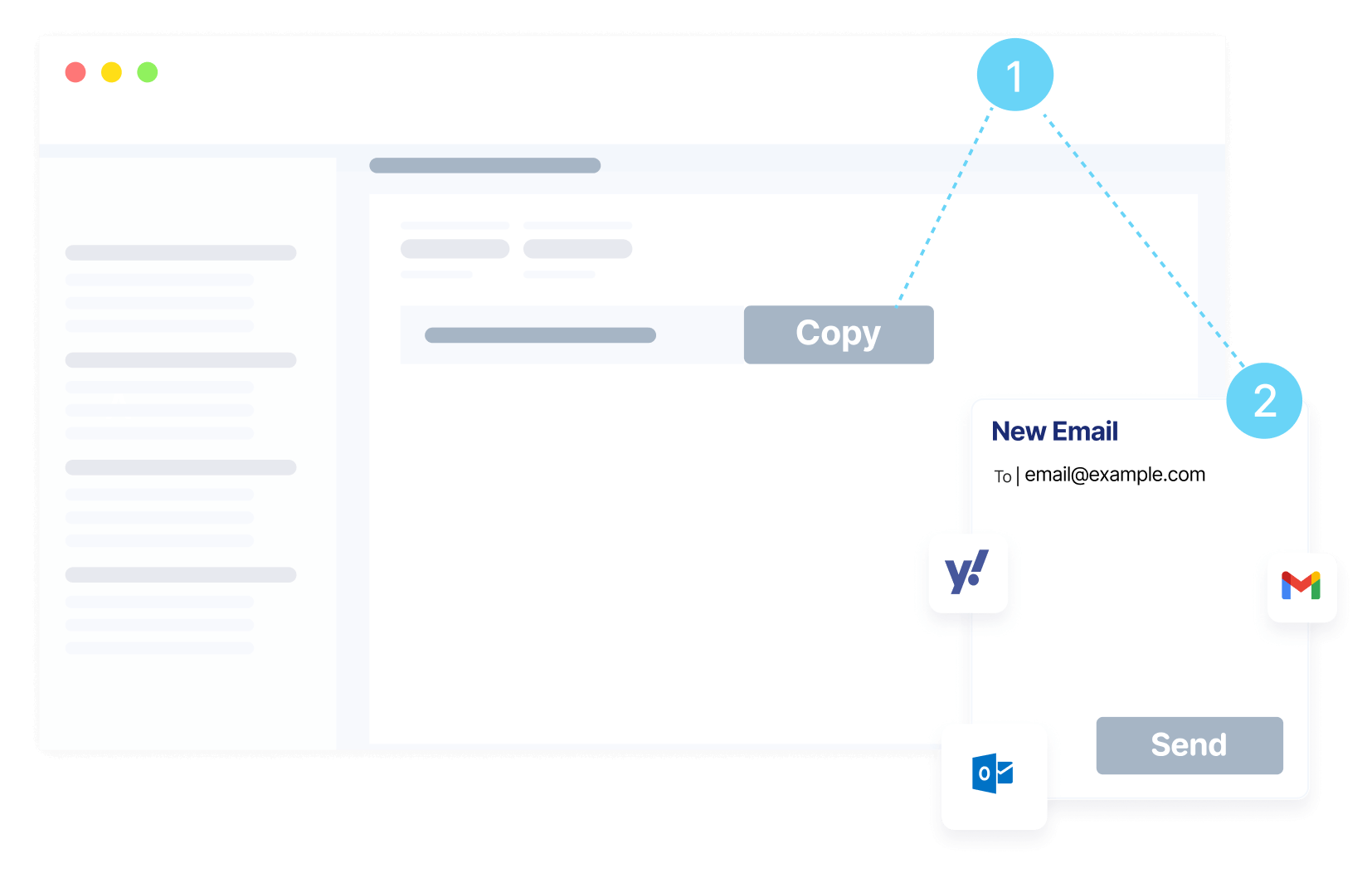 Frequently Asked Questions
How Does Email Investigation Work?
EasyDMARC's Email Investigate tool is based on peer-sending technology. You get a unique inbox address and send an email from your sending domain. This action triggers the tool to analyze your email headers and return detailed information about SPF, DKIM, and DMARC records. It also reveals your domain's DMARC policy and retrieves the configuration guide for source authentication setup.
Here's how to use Email Investigation:
Send a single email (content doesn't matter) to the address provided by the Email Investigation tool.

The email will appear in the Email Investigation section of your EasyDMARC account labeled as "Compliant" or "Non-compliant."

Open the email for a more detailed breakdown of each email sending source and its current status.

Adjust your domain setup where necessary by following the given instructions.
Haven't registered yet? Sign up and get your 14-day free trial now!
What is Email Header Analysis?
Emails consist of 2 main parts–the header and the body. The former contains the metadata for the email, while the latter is the contents of your email.
Email header contains:
Sender's and recipient's email addresses

When the email was sent (date and time)

The email servers involved in the delivery process

The subject line of the message
Analyzing an email header lets you gather critical information about the email's source, path, and sending servers. Email header analysis is a crucial technique for understanding the technical details of email communication and ensuring email security and authenticity.
Email header analysis is particularly important for implementing email authentication protocols such as SPF, DKIM, and DMARC. These protocols use cryptographic methods to authenticate the sender's identity. Thus, analyzing the email header gives a lot of information about whether the email passed or failed the authentication checks.
How to View an Email Header in Gmail?
Go to your Google Mail account and open an email. Find "More" (3 vertical dots), and choose "Show original."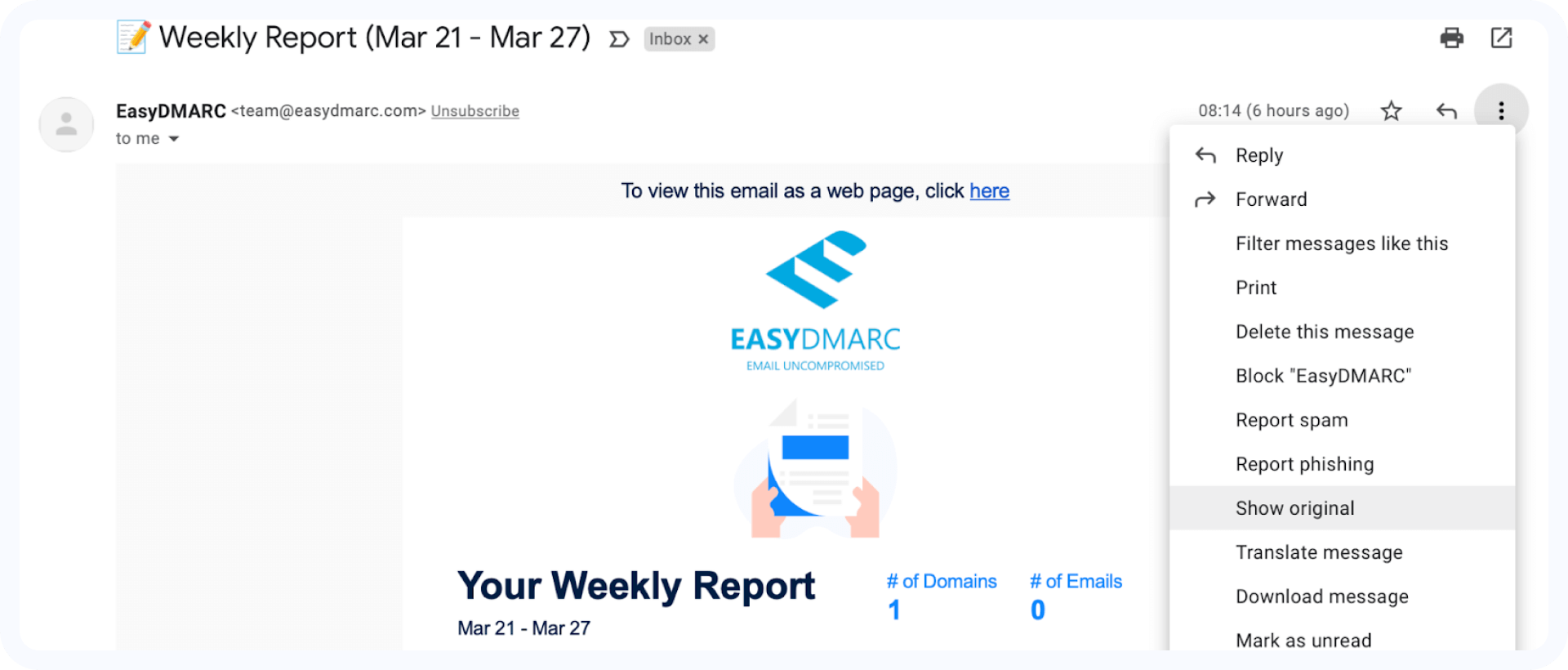 How to View Email Message Source in Outlook?
Go to your Outlook email account and open an email. Find "More actions" (3 horizontal dots), and choose "View message source."
How To View an Email Raw Message in Yahoo?
Go to your Yahoo Mail account and open an email. Find "More actions" (3 horizontal dots), and choose "View raw message."
How to Detect and Troubleshoot Email Issues?
Email header analysis can help to identify the source of spam and phishing emails, detect domain spoofing attempts, and troubleshoot email delivery problems.
EasyDMARC's Email Investigation tool analyzes the email headers and provides detailed information on the sending source statuses for SPF, DKIM, and DMARC. Our tool can also determine whether the email passed or failed the authentication checks and identify any potential issues.
If the email fails authentication, the tool will provide details and reasons for the authentication failure. This information can help you troubleshoot the problem and take the necessary steps to fix it, such as updating your SPF or DKIM records.
With the help of our smart feature, you can quickly identify and solve problems with your email authentication and ensure that your emails are delivered securely and reliably.
What Is Email Investigation? How Can It Help?
DMARC Aggregate reports are, by default, sent once in 24 hours. You'll have to wait before you get the first one after deploying the DMARC record in your DNS. Our Email Investigation tool helps you check specific sending source configurations one at a time while you wait.
Email Investigate is also irreplaceable when you're making changes to or troubleshooting your email sending source configurations even after you've received the report. Read this article to learn more.
Explore All EasyDMARC Tools To Improve Your Domain
Security and Email Deliverability
Lookup tools
Generator tools
Other tools
Join the 45,000+ businesses growing safely with us
Make Your DMARC Journey Simple With EasyDMARC