DMARC Guide For Education IT Staff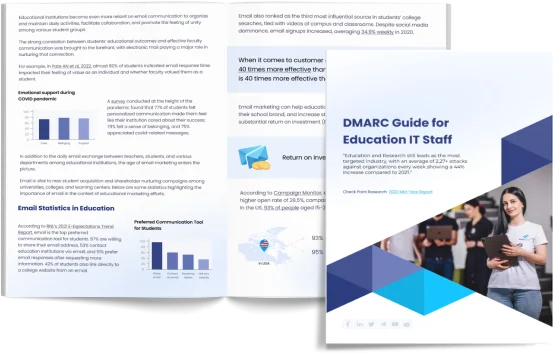 DMARC Guide For Education IT Staff
EasyDMARC's team researched DMARC adoption rates throughout 12,000+ .edu domains and found that the number of domains that reached the "reject" policy is alarmingly low. Only 7.8% of US and 3.3% of worldwide .edu domains are fully protected against spoofing and phishing.
We present the research results, facts about email authentication in the educational sector, and the challenges of DMARC implementation.
Who Is It For?
Our ebook is mainly for IT professionals that work in the education sector. However, it could also be an interesting read for faculty, administrators, students, and anyone interested. It will help you better understand DMARC and point you to some valuable best practices we know about first-hand.
What's Inside?
Email Communication Trends in Education
Email Statistics in Education
Email Authentication: Why It Is Important for Education Institutions
Why Education Needs DMARC
DMARC Implementation Challenges for Education IT Staff
Stats about 12.000+ .edu domains analyzed by the EasyDMARC Research team
How To Take Domain Protection to a New Level
Learn about SPF, DKIM, DMARC.
Subscribe to our newsletter.