Phishing URL Checker Usage Report 2023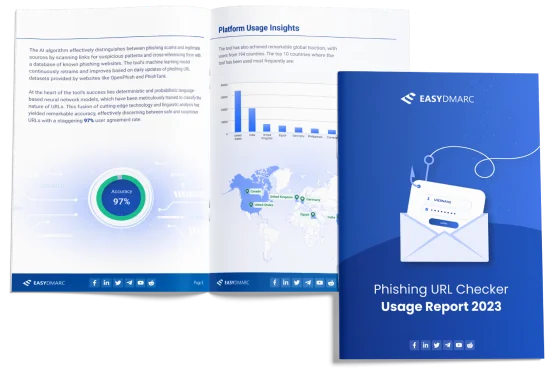 Phishing URL Checker Usage Report 2023
As cybercriminals continually refine their tactics to bypass safeguards, it becomes increasingly difficult to detect malicious URLs with the naked eye. 2022 saw an unprecedented surge in phishing attacks, totaling 1.3 million, a new all-time high. To withstand the advanced techniques used by attackers, you need an equally advanced tool trained in detecting what the human eye can't.
EasyDMARC's research team has compiled a year's worth of data gathered through our Phishing Intelligence Platform since its release in April 2022 and created an industry report to guide you through the intricacies of phishing attacks.
Download this free report to delve into a comprehensive analysis of malicious URLs and an in-depth explanation of the tool's functionality.
Learn about SPF, DKIM, DMARC.
Subscribe to our newsletter.