Your DMARC Guide To Increase eCommerce Productivity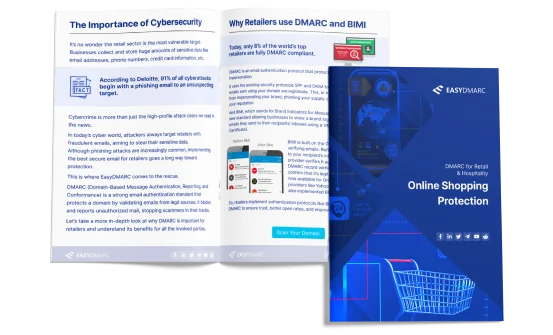 Your DMARC Guide To Increase eCommerce Productivity
eCommerce is one of the top industries that rely on email communication, and the industry is huge. There were 2.14 billion online shoppers in 2021, online sales are surpassing the $5.42 trillion line. With Meta on the rise and their push for eCommerce on the platform, it's bound to attract more customers in the coming years. People simply love convenience and one-click purchases. These are the precise conditions where bad actors thrive – a market with many users that make emotional decisions. That's why it's crucial to ensure security for eCommerce.
In ecommerce, email is a critical communication channel for order confirmation, shipping notifications, and customer support. However, malicious actors can send fraudulent emails to trick customers into giving away sensitive information. They're usually after login credentials or credit card numbers. Another huge issue online shopping is facing is deliverability.
DMARC is an authentication protocol that solves both problems. It can elevate security for eCommerce to a new level, helping businesses in the industry stay vigilant against spoofing attacks. By implementing DMARC, online shopping companies can stay on top of the sources that send emails on their behalf, thus improving their domain reputation with email service providers as well as customers. Dmarc is the best way to control your business reputation and rest assured that threat actors aren't going to misuse your domain.
Learn about SPF, DKIM, DMARC.
Subscribe to our newsletter.