What Is EasyDMARC's New Alert Manager?
EasyDMARC's Alert Manager is a brand-new way to stay on top of the changes in your domain infrastructure. This feature aims to update users on
DKIM, DMARC, and BIMI record changes
DKIM, DMARC, and BIMI validation failures
IP and Domain blocklist status changes
The new feature is going to stay under development. We plan to add other vital alert types like SPF record change or failure, email volume exceeded, and new source detected.
The feature scope includes:
The "Manage Alerts" page
The "Alerts Log" page
Email alerts triggered upon the event
Weekly "Alert Digest" email
Let's go through each and describe what each component adds to the feature.
The "Manage Alerts" Page
This view allows users to create new alerts, modify or delete existing ones, or add and remove users for each alert. The screen also shows the alert severity, which has 3 levels:
Informational
Warning
Critical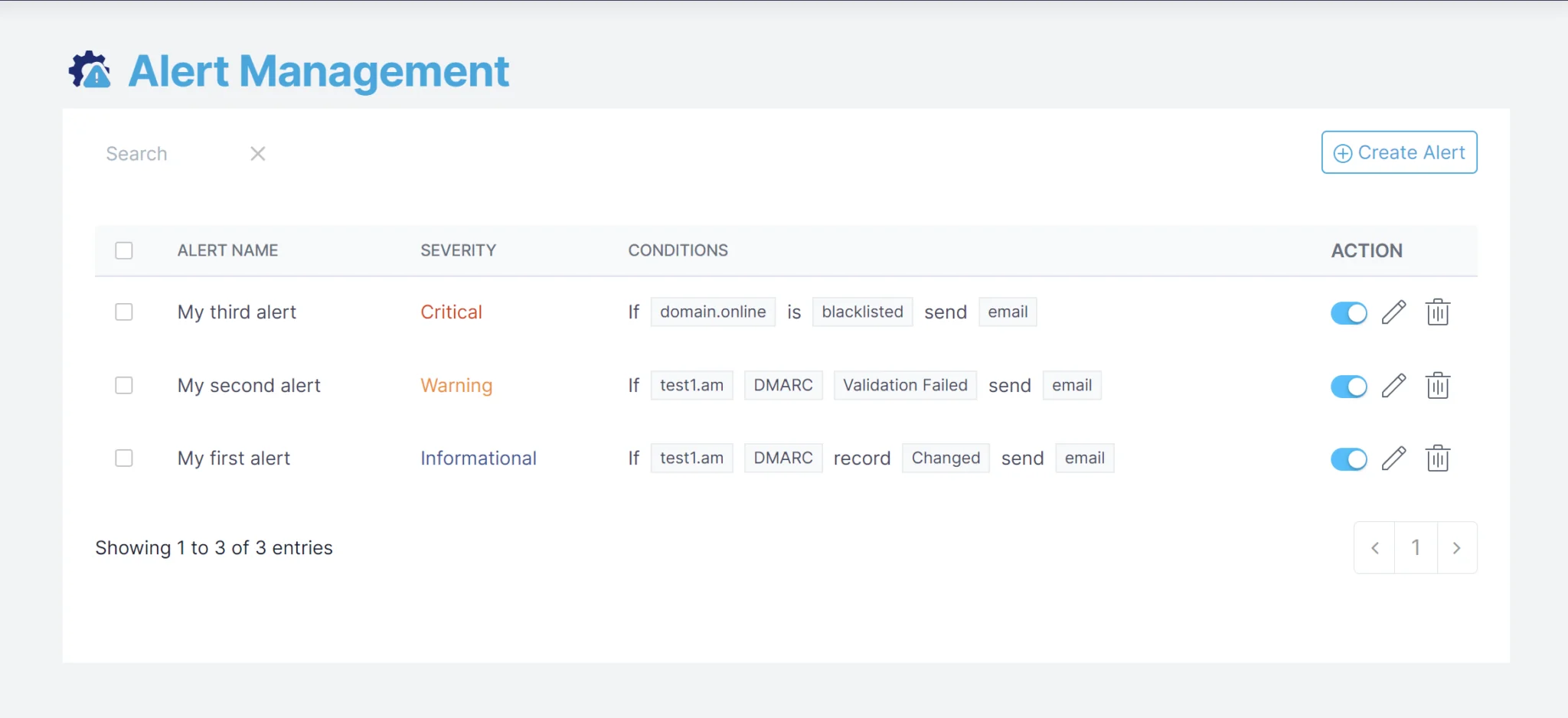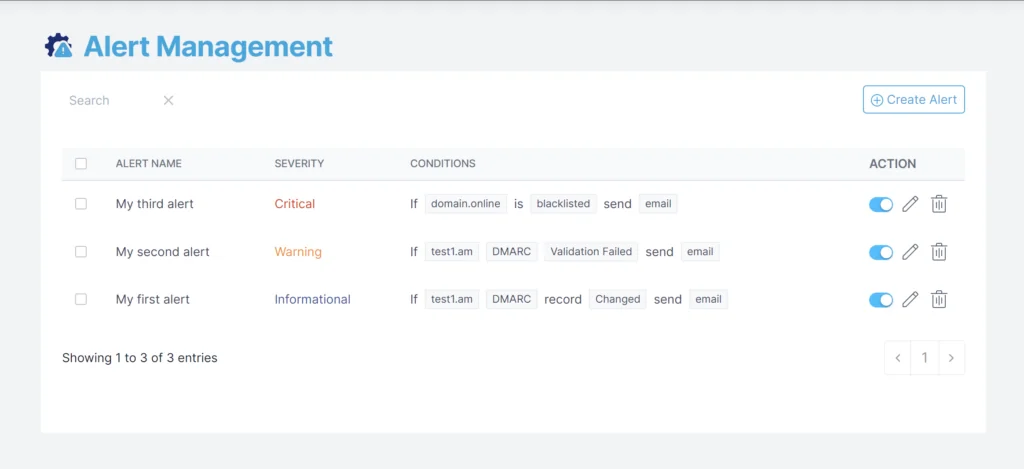 You can customize all aspects of the alert except the notification content, which is a default email message.
The "Alerts Logs" Page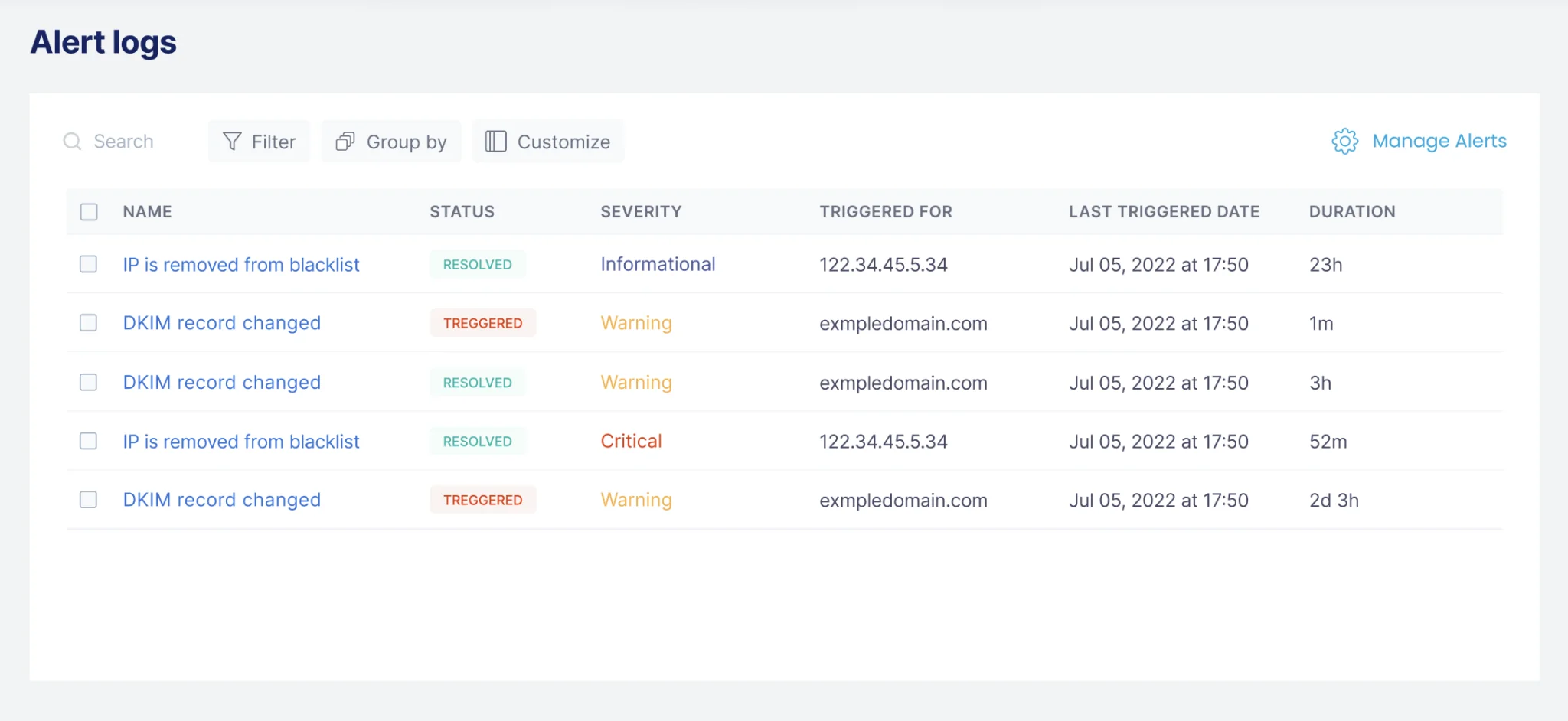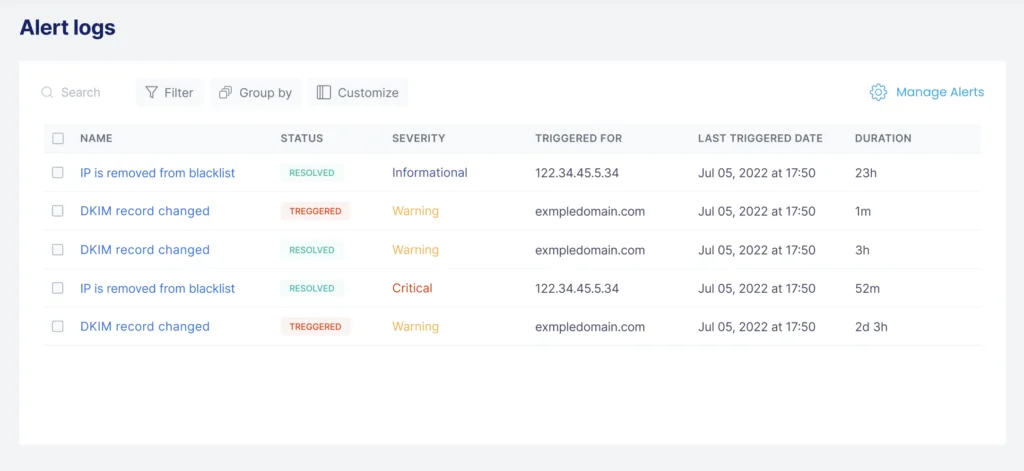 This page contains the history of alerts. It's a table view where you can see the notification, how long ago it was triggered, its current status, severity, for which IP or domain it occurred, and when. This page is more than just a logging system. It provides information on how long the alert was active and when the user took action. You can reveal more details by clicking the alert.
The "Alerts Logs" page also offers a search, filter, and group functionality to make it even more useful when navigating through the alerts and deciding if it's worth taking action on each one.
Event-Triggered Email Alerts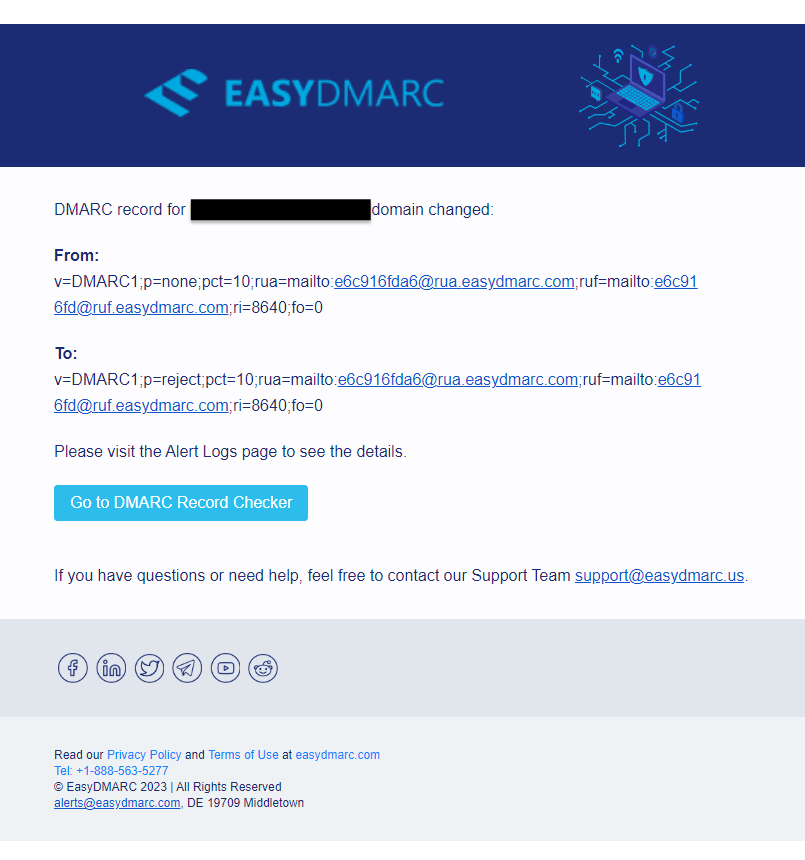 Alerting functionality would be incomplete without some form of a nudge from the system. For the initial product launch, we've chosen email notifications. However, we're working on other notification options like in-app badges, SMS, or Slack message implementation.
Weekly Alert Digest Emails
In addition to the real-time notifications, EasyDMARC sends you an email showing the number of triggered, active and resolved events.
Our Default Set of Alerts
As an email authentication company, we're determined to give you the best tools for DMARC compliance. Thus it's only fitting that we've chosen DMARC-related alerts to be active by default. Every existing Organization will have "DMARC Record changed" and "DMARC validation failed" alerts active from the get-go.
As we release new alert types, the list of essential alerts will grow, including SPF-related ones, new source detection, and exceeding email volumes.
All default alerts are customizable so that you can get the most value out of our platform and its perks.
Add Value to Your Workflow With
EasyDMARC's New Alerts Manager
Who Is the New Alert Management Available For?
For the first 30 days, our New Alert Manager will be available for all existing and new users. After the initial month, it'll only be included in EasyDMARC's Premium tier and higher.
The feature is also available for Trial accounts during the whole period. If the Organization in trial decides to go with the Free or Plus package, the system will stop supporting the feature.
As an organization owner, you can assign alerts to anyone in your company or outside it simply by adding an email address to the alert in question.
Our latest feature, Permission Management, allowed Organization owners to grant granular access to other users. Creating and managing alerts follows the same logic:
Global Administrators can create and manage alerts for all domains in the Organization
Domain Group Administrators can create and manage alerts for the domains in their group
Domain Administrators can create and manage alerts for the domains they have access to
What Are Some New Alert Management Benefits?
Never miss an important change: You'll receive real-time email alerts (Slack and in-app notifications in the future) for the most important events happening to your domains.
Make informed decisions: Track, filter, group, and customize your alerts to meet specific criteria so that you can take action at a glance.
Take complete control with our ever-growing event list: We'll eventually support more than 50 events to ensure you stay current on all the major and minor changes in your domain infrastructure.
Default alerts: Stop guessing which events are better to track. We've made a list of default alerts to save you time and effort. However, you can always modify them to your needs.
Keep key teammates in the loop: You have complete control of who receives alerts within your Organization or, if needed, outside your company.
What's Going To Happen to the Old Alerts?
The move to the new Alert Manager is going to be gradual. To carry out a smooth transition, we've removed the ability to create new alerts in the old system. Any new notification should be created using the new feature.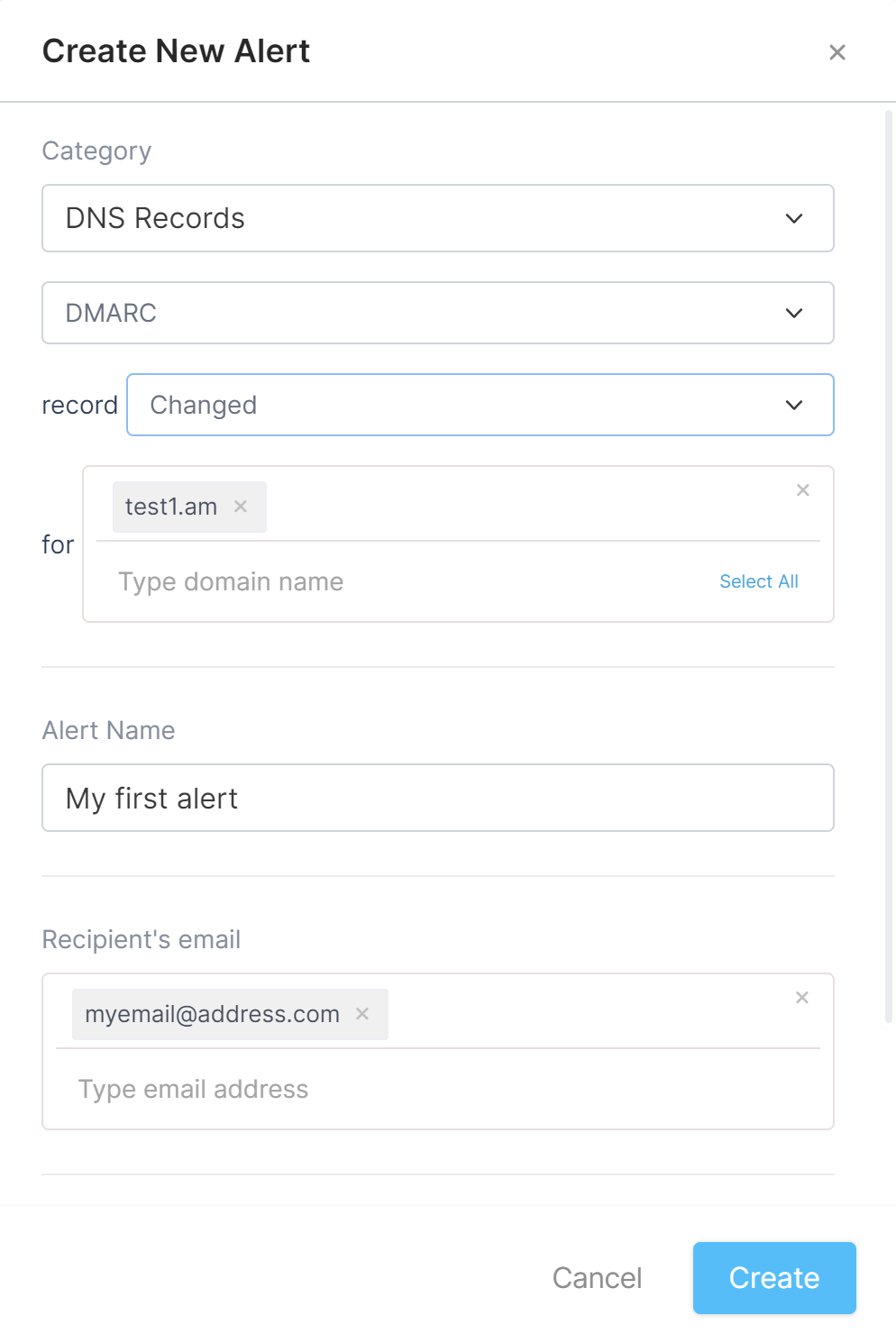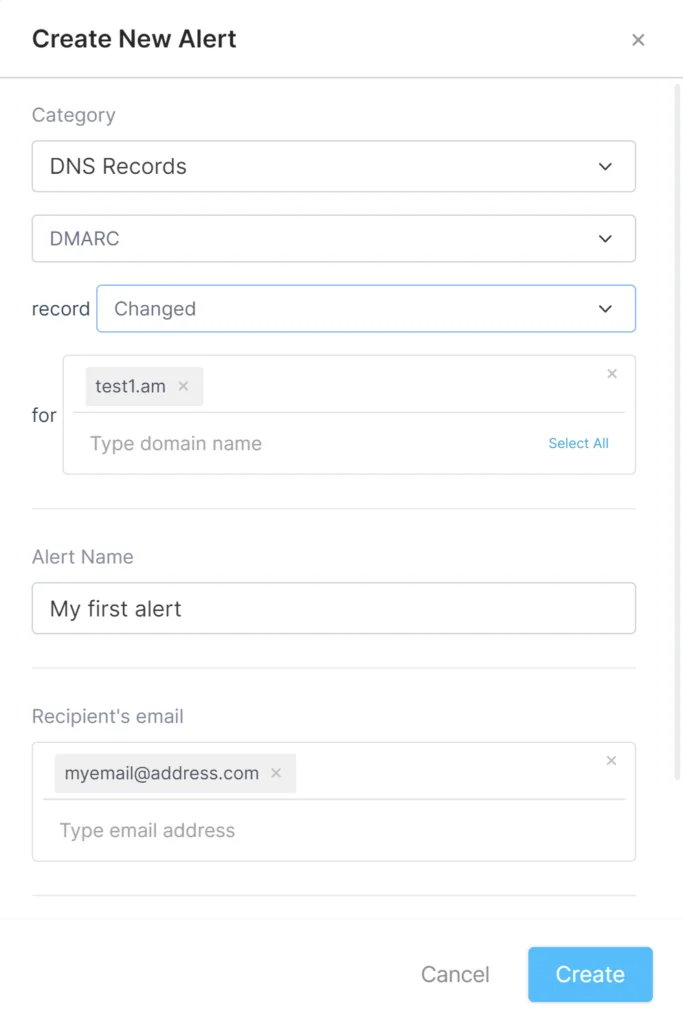 We'll be releasing the full feature set in several phases. After we add several essential alert types and the features are ready to transition, we'll give you a 14-day window so you can adapt your old alerts to the new Alerts Manager. Afterward, we'll remove the old system from the EasuDMARC dashboard.