Phishing Statistics Report, 2022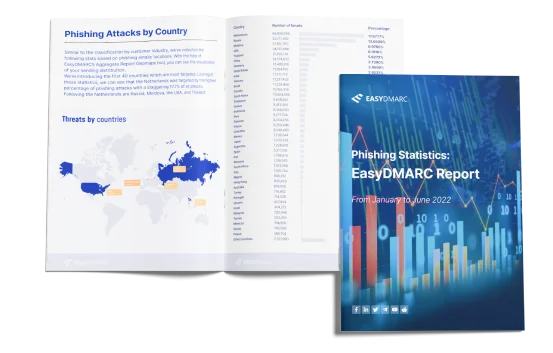 Phishing Statistics Report, 2022
Phishing is one of the most widespread cyberattack types, and 96% of phishing attacks reach recipients by email. This statistic shows as plainly as day how crucial it is to protect your business email infrastructure.
While large companies usually have a data leak prevention plan, over 71% of all small businesses online don't have any.
Our report includes new data points observed across the global EasyDMARC network during the first six months of 2022.
We've talked to over 40,000 information security and cybersecurity professionals. More than 80% state that

phishing attacks

represent a top security concern.

Finance is the most attacked industry globally.

The Netherlands leads the list of target countries for phishing attacks.

During the first half of 2022, EasyDMARC's platform blocked more than 90 million phishing attacks.
Find these and other curious insights in our report.
Learn about SPF, DKIM, DMARC.
Subscribe to our newsletter.