iOS 15 is the recent Apple operating system update that includes major changes for email marketing and privacy issues. As the update is rolling out, marketers want to learn more about underlying implications.
The efficiency of email marketing depends on many factors, including how safe the recipients feel about the sender. The new version of the software includes a few guarding mechanisms for users to feel more secure about the information they share and companies collect about them.
Email marketers should also be prudent about their approach to information collection and what data they actually need.
This article will go through the changes iOS 15 entails and give out a few tips and mindset changes to improve your email campaigns despite the hindrances that come with it.
Privacy Protection: What's New in Apple iOS 15
Privacy protection has been Apple's center of attention for years now. Every subsequent software release focuses more on user security, on-device data storage, and other security practices.
The recent mail privacy protection effort makes Apple email marketing a bit more complicated. Still, the craze among marketers that the communication method is dying is a bit exaggerated.
While many users will prefer to turn on the privacy protection features, it doesn't mean that email marketers can't use other metrics to pinpoint their campaign success.
Here are a few changes that will affect marketing efforts while protecting the users from various cybersecurity threats and excessive data collection.
Turning off Open Rate Tracking
The open rate has been one of the KPIs for marketers since email marketing became a thing. In iOS 15, users are prompted to select "Protect Mail Activity." When they do, the content of the message goes through a proxy server and gets checked before ending up in their iCloud mailbox. As a result, it registers as "Opened" even if the receiver hasn't clicked on it. This means that the update will skew the open rate metric.
IP Address Blocking
In addition to blocking iOS 15 email tracking pixels, this update also masks your IP address. This feature acts as a VPN of sorts, shielding the device location from the sender.
This feature can hinder marketers from carrying out geolocation-based email campaigns, creating yet another change they need to adapt to.
Email Address Cloaking
The last two features are going to be available for all iOS users. However, the update contains a few more privacy fixes for iCloud+ subscribers.
Email address randomization during sign-ins existed before this release. Still, iOS 15 contains its latest iteration. When the user wants to create an account on a website that has "logging in with Apple" available, they'll have the option to mask their private email address. It creates a placeholder that redirects to their main mailbox.
This way, the recipient will have the option to keep the real address private and create as many "fake" email addresses as possible. This also works for
This feature is behind a paywall, which drastically decreases the impact on email marketing efforts. Still, it will be increasingly difficult to build reliable lists and keep correct engagement metrics with subscribers that use this feature.
Private Relay
Tracking browser activity for more information about your clients is a common practice in marketing. Private relay encrypts the browsing data by sending it through two separate pathways. One scrambles the IP address, assigning a general area to the device instead of a specific location. The second relay deals with user activity. Doing this dissociates user data from their search history, resulting in privacy protection.
Although this feature only works for Safari users and generally refers to blocking third-party tracking, Apple email marketing can still suffer in terms of personalization and location/time-specific content.
Get Ready to Tame the Change
While the general trends have been moving toward more privacy-oriented software and hardware practices, the Apple iOS 15 update put a lot of pressure on marketers. Sure, changes are coming, but there's no need to panic.
The secret to staying on top of the new features is to have consistent email marketing practices. Keep your audience lists clean and segmented and engage them with reconfirmation campaigns. You'll also be in better shape if you use proper email authentication, including SPF, DKIM, and DMARC.
Below, we give a few more tips to help you along the way.
Treat Apple Users as a Segment of Your Email Readers
When the first wave of the "email is dead" trend passed, marketers realized that Apple users were only a percentage of their audience. This segment may be large, but it doesn't affect users on Windows and Android devices.
In addition to this, some of the features only work on Apple-specific applications such as Mail and Safari, which means that even Apple device users that utilize third-party email clients and browsers won't be affected.
Adjust Your Approach to Open Rate and Localized Email Content
As a result of this update, you'll have to move away from giving the "open rate" as much importance as you used to. If you have any workflows and conditioning based on the metric, you'll have to change those up. For example, segmenting the audience according to the open rate won't work anymore. You might also have to put extra work into redesigning automated email chains that start with an opened message if you have those.
Due to IP address blocking, delivering localized content based on open rates won't be accurate, too.
In general, not being able to measure deliverability will be the worst outcome for marketers. However, it shouldn't be a huge problem for DMARC users anyway.
Before full adoption, you need to ensure that it doesn't disrupt your automation and workflows.
Don't Forget Other Marketing Stats
Not having open rate tracking might sound bad, but you have plenty of other metrics to measure campaign success. Use click data, conversion rate, and active on-site users. These statistics talk more about the outcomes of the email marketing, making your stats more in-depth. Besides, segregating iCloud mailbox users will clean up the picture more.
Stepping back from open rate tracking might be a major mindset change for marketers, and the transition might take some effort. Still, regaining the audience and correct metrics is worth it.
In addition to focusing on more valuable metrics, you might also want to explore new alert mechanisms like SMS and push notifications.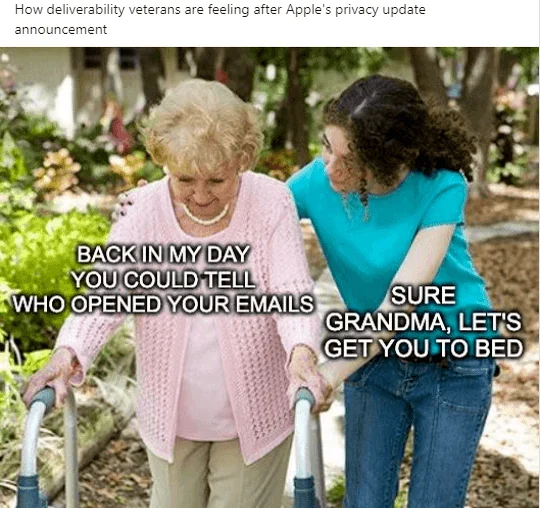 Conclusion
Anything new always ruffles a few feathers, and before the industry gets used to it, it has to shake up processes. As privacy is becoming increasingly important for large companies, marketers need to follow developments in cybersecurity and information collection.
iOS 15 will bring a new approach to Apple email marketing and probably set a long-term trend in privacy practices.