If you want to start a career in the challenging cybersecurity world, YouTube is the best place for you. The public video platform has various channels with experts:
Discussing interesting cybersecurity topics 

Providing an understanding of the industry 

Announcing cybersecurity news

Teaching data protection
This article covers the top cybersecurity YouTube channels that provide valuable knowledge in all things cybersecurity. Let's go!
TL;DR
The importance of cybersecurity continues to grow. Today, there are more than 1 million unfilled cybersecurity job positions worldwide, and according to the Cybersecurity Ventures Report, there'll be 3,5 million openings by 2025. Moreover, top cybersecurity and information security professionals' salaries average $420,000 yearly, says Forbes.
Why are companies paying such high salaries for these experts?
The problem is there aren't nearly highly enough educated and qualified workers to meet the demand. Cyberattacks have become increasingly sophisticated, making businesses even more vulnerable to cyberthreats. 
Every day, more and more companies understand the need for cybersecurity solutions to protect their digital data.
Indeed, cybersecurity is a highly complex and hard-to-understand field. It has multiple layers of defense in various directions, solutions, and types of protection services, including:
Information Security

Network Security

Critical Infrastructure Security

Email Security

Antivirus Programs

Application Security

Cloud Security

Internet of Things (IoT) Security
But hold your horses! Before you spend money on expensive courses and lessons, why not use readily available and free resources? You can start learning about cybersecurity by watching YouTube videos from real experts worldwide.
Here are the best cybersecurity channels on YouTube and what they can offer you.
Top 10 Best YouTube Channels About Cybersecurity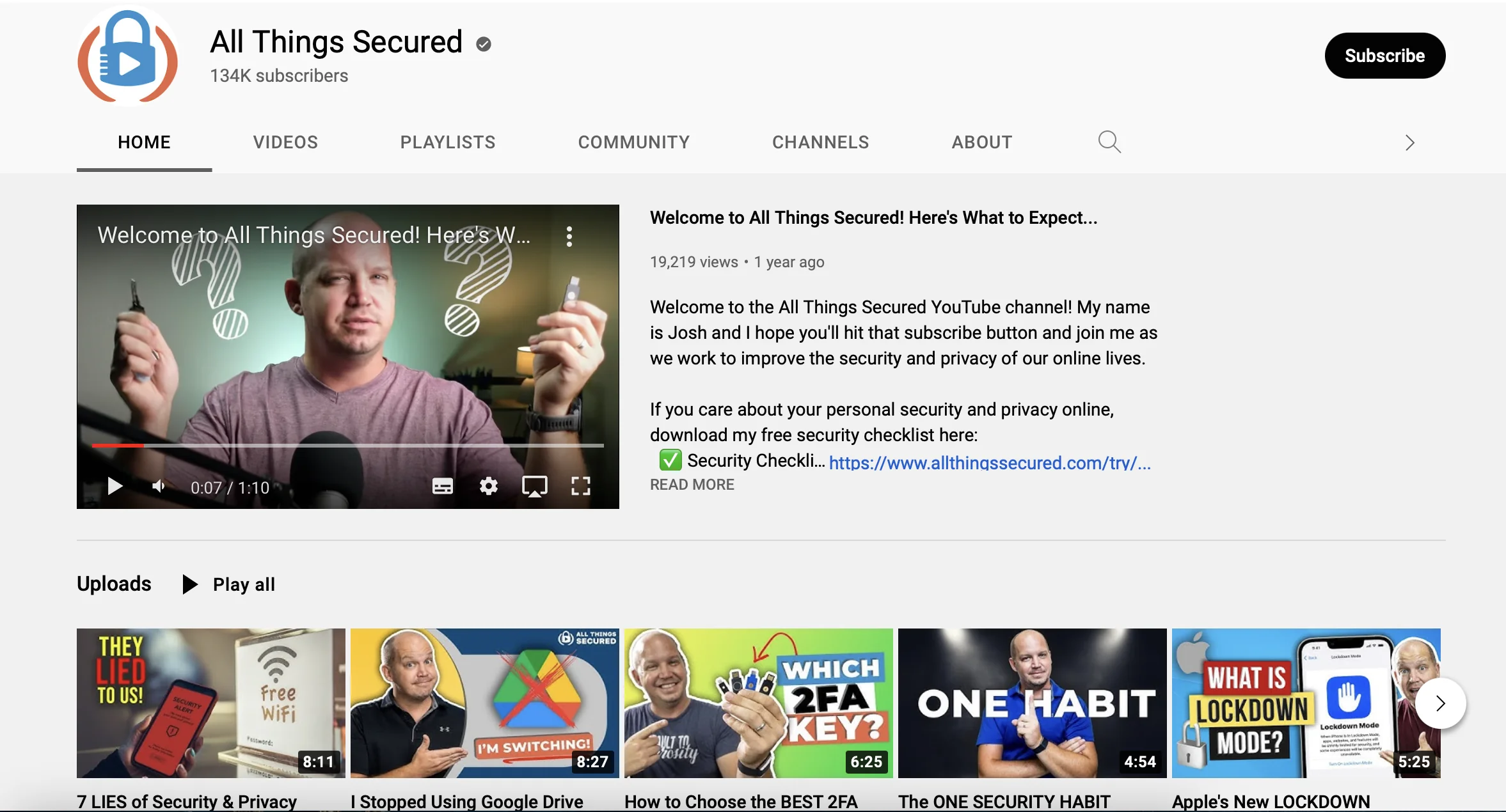 Start with Josh!
His All Things Secured YouTube channel provides easy-to-follow tips and tutorials to help non-tech-savvy people build more robust privacy and security online.
Learn how to lock down your social profiles, use a password manager, connect to a virtual private network (VPN), use an identity monitoring service and much more.
With Josh, you can also learn the vital skills to keep your personal life private and understand best security practices related to your home network, email, mobile phone, etc.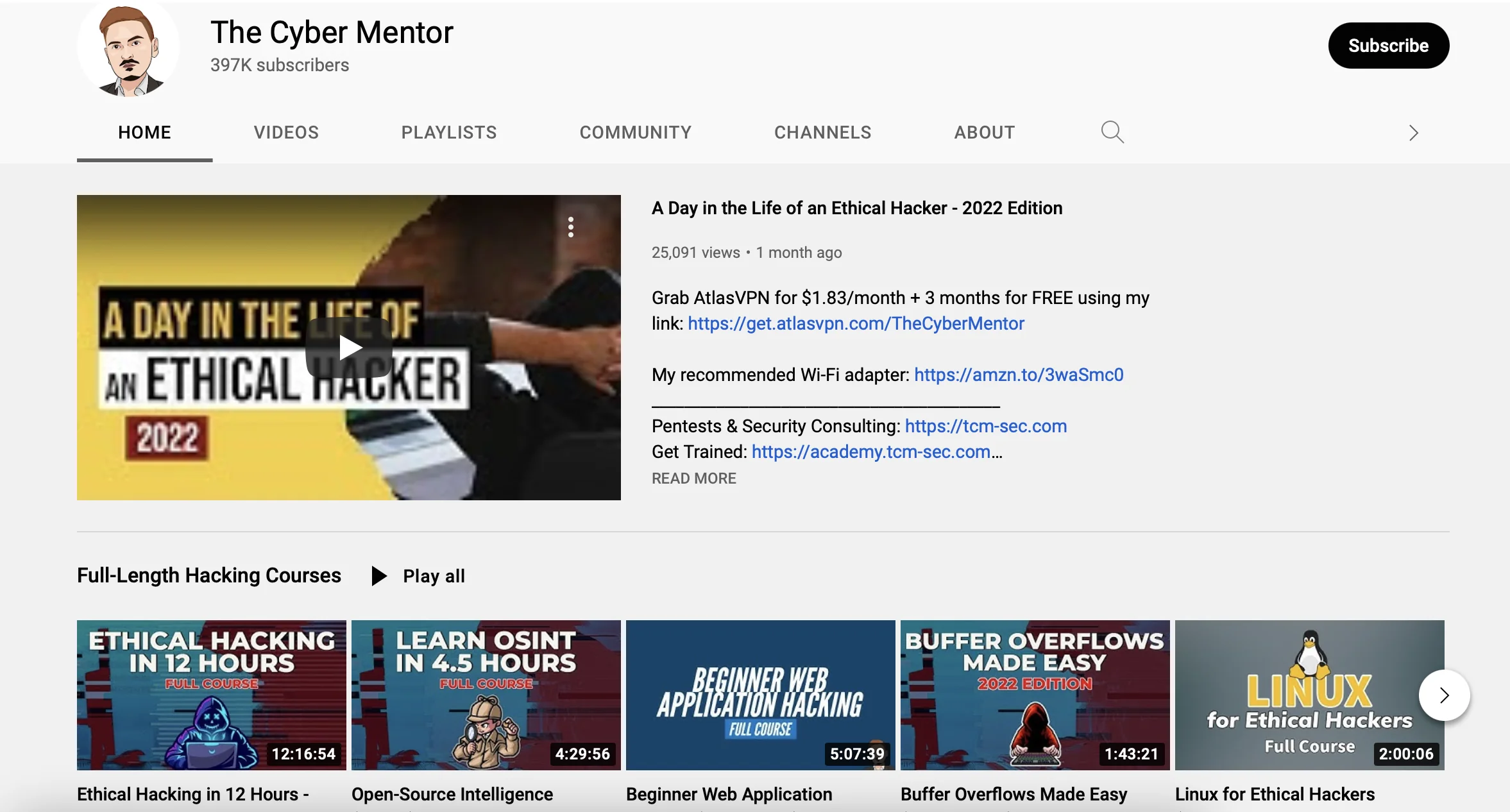 At The Cyber Mentor YouTube channel, you can learn various lessons about cybersecurity, including ethical hacking, the dark web, and computer science. The channel also features videos on email security, pentesting, and much more.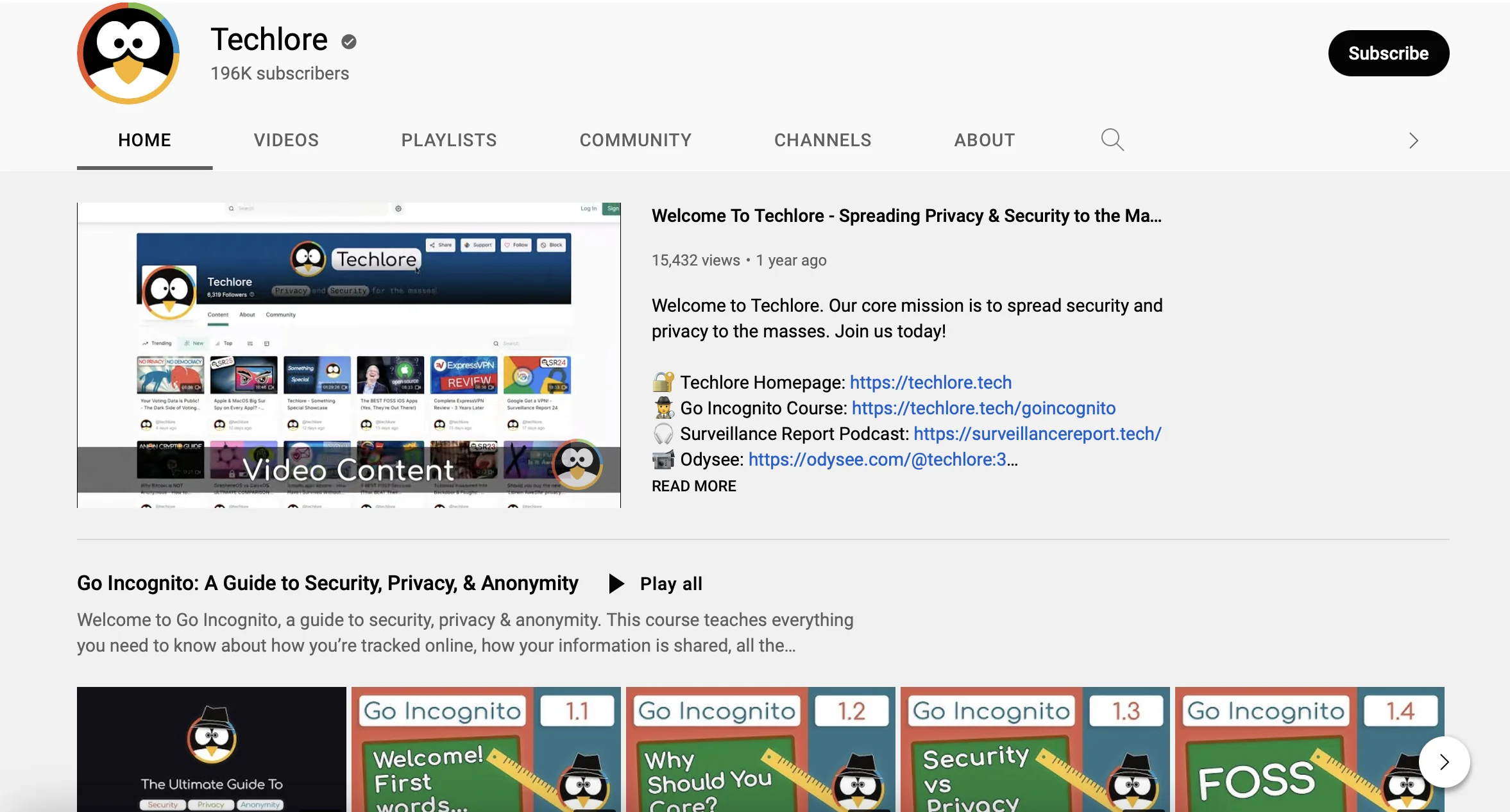 Techlore is a YouTube channel created to prove that privacy and security aren't just achievable – but simple and accessible. Essentially the channel fosters a privacy, security, anonymity, and tech-oriented community, helping members across the globe to protect their digital identity.
Here, you can find various free courses and lessons for beginners in their cybersecurity journey.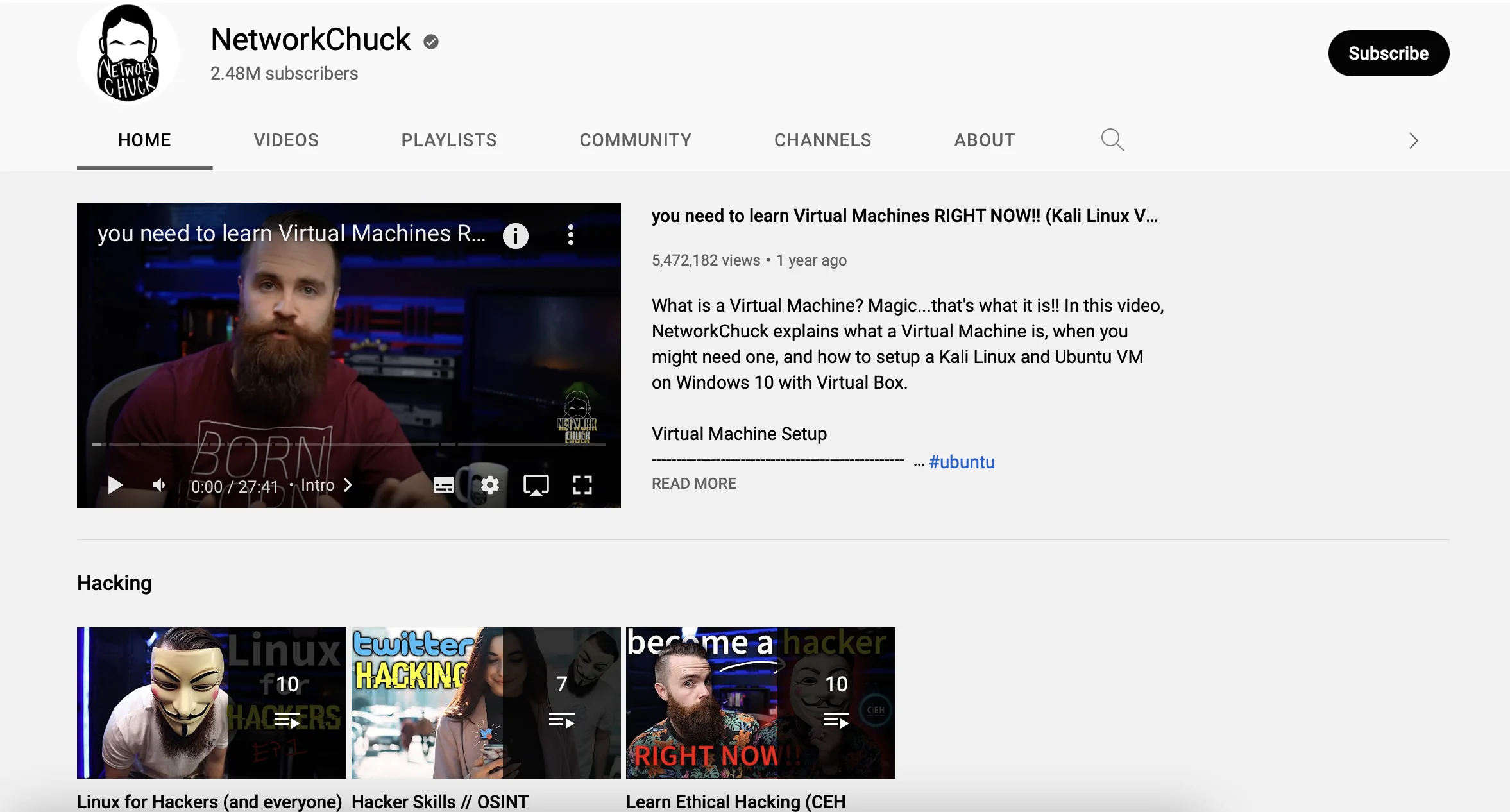 Chuck is an Information Technology lover! A big lover!
As he states, his goal is to help people jump into a career in the IT field through obtaining IT Certifications.
On the NetworkChuck YouTube channel, he talks about Cisco Certifications, CompTIA, AWS, Microsoft, and much more.
Discover Chuck's interesting world and learn more about cybersecurity.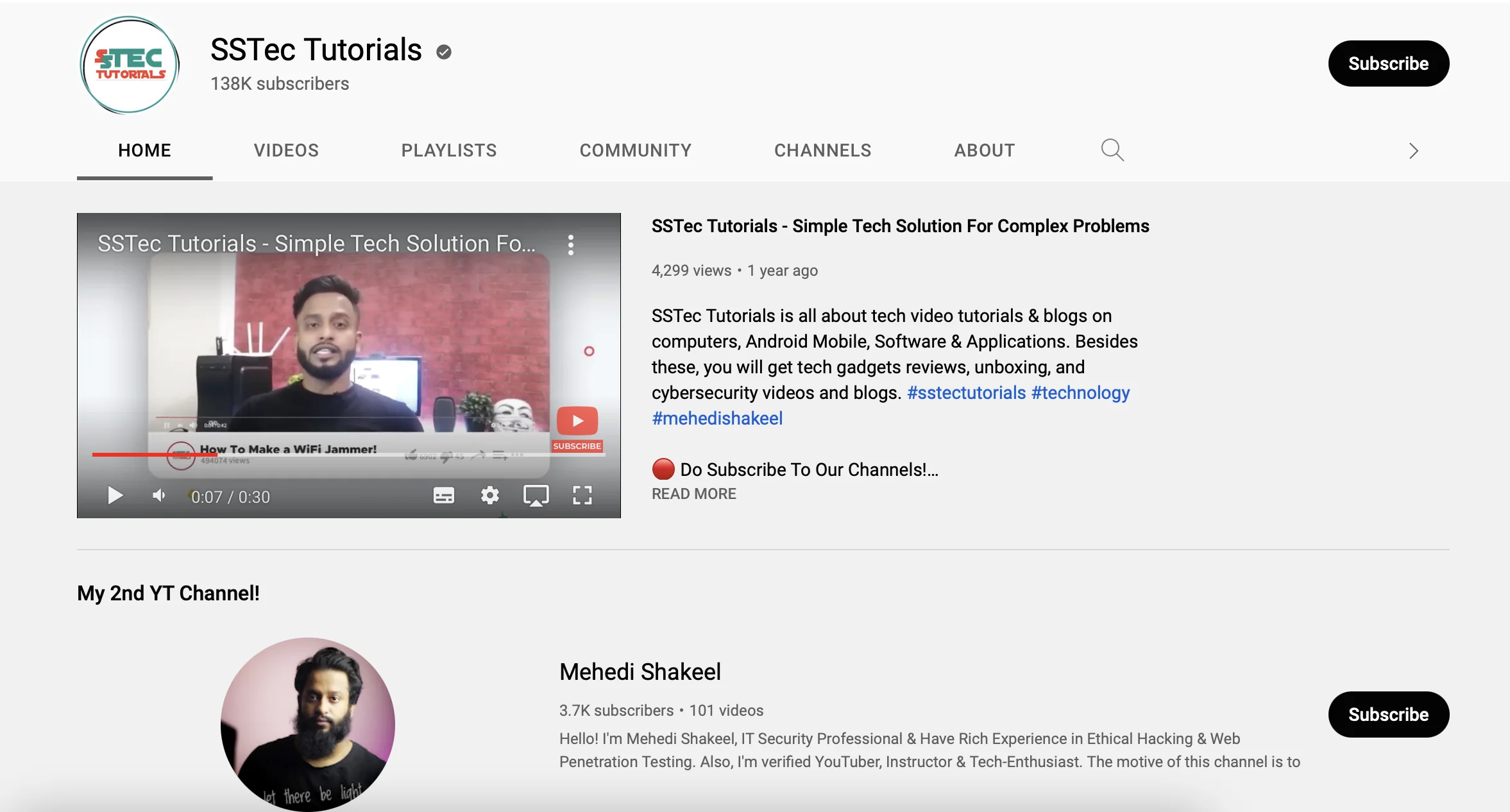 SSTec Tutorials is a YouTube channel all about tech video tutorials and blogs on computers, Android Mobile, software, and applications. Created by Mehedi Shakeel, the cybersecurity channel also features gadget reviews and information security content.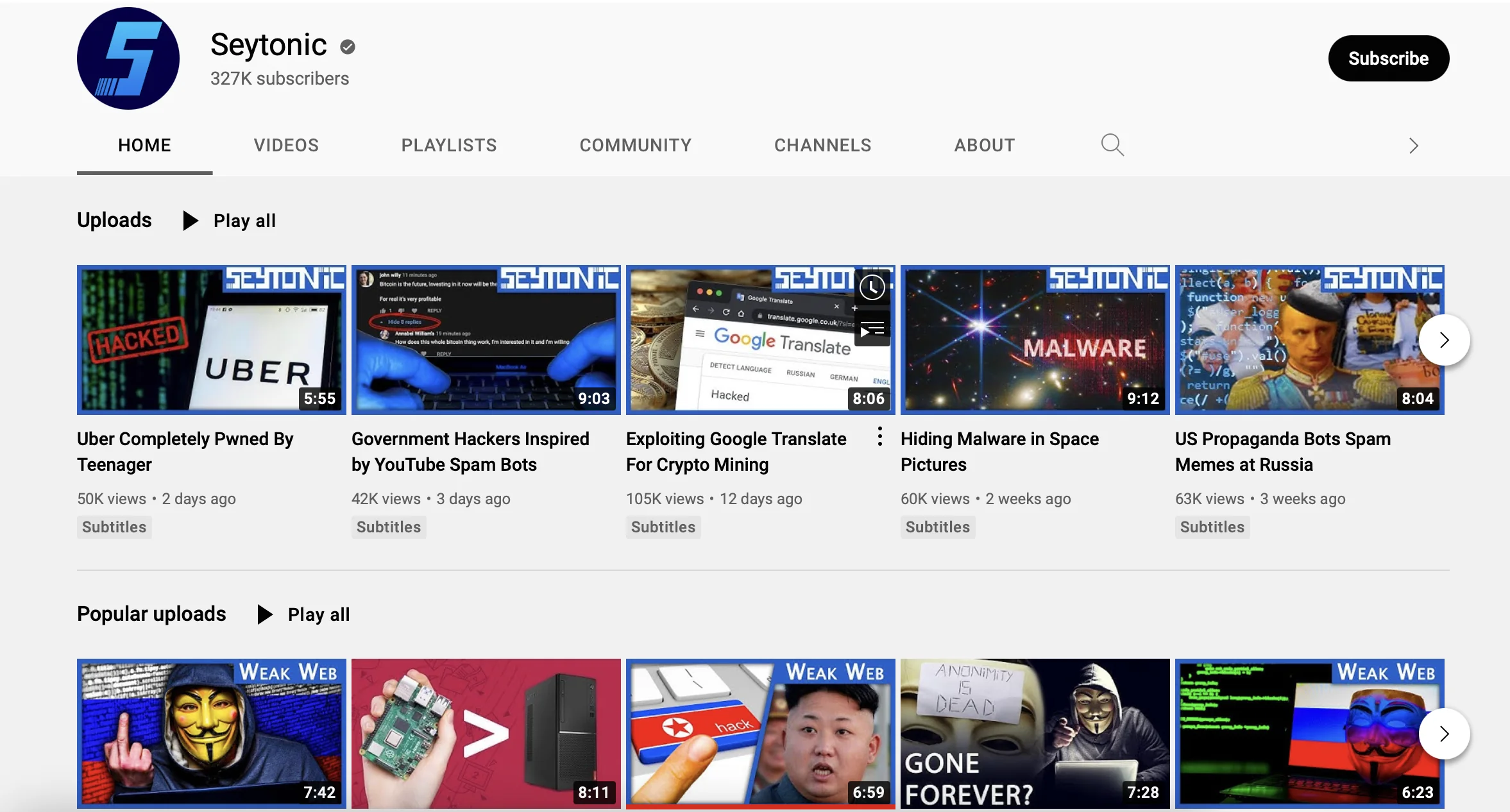 "I break down and dissect cybersecurity-related tech news," says Jhonti (AKA Seytonic).
He created the Seytonic YouTube channel in 2016 to showcase his hardware hacking projects (mostly anything and everything BadUSB-related). You'll also find fascinating content on malware like spam bots, crypto mining, and more.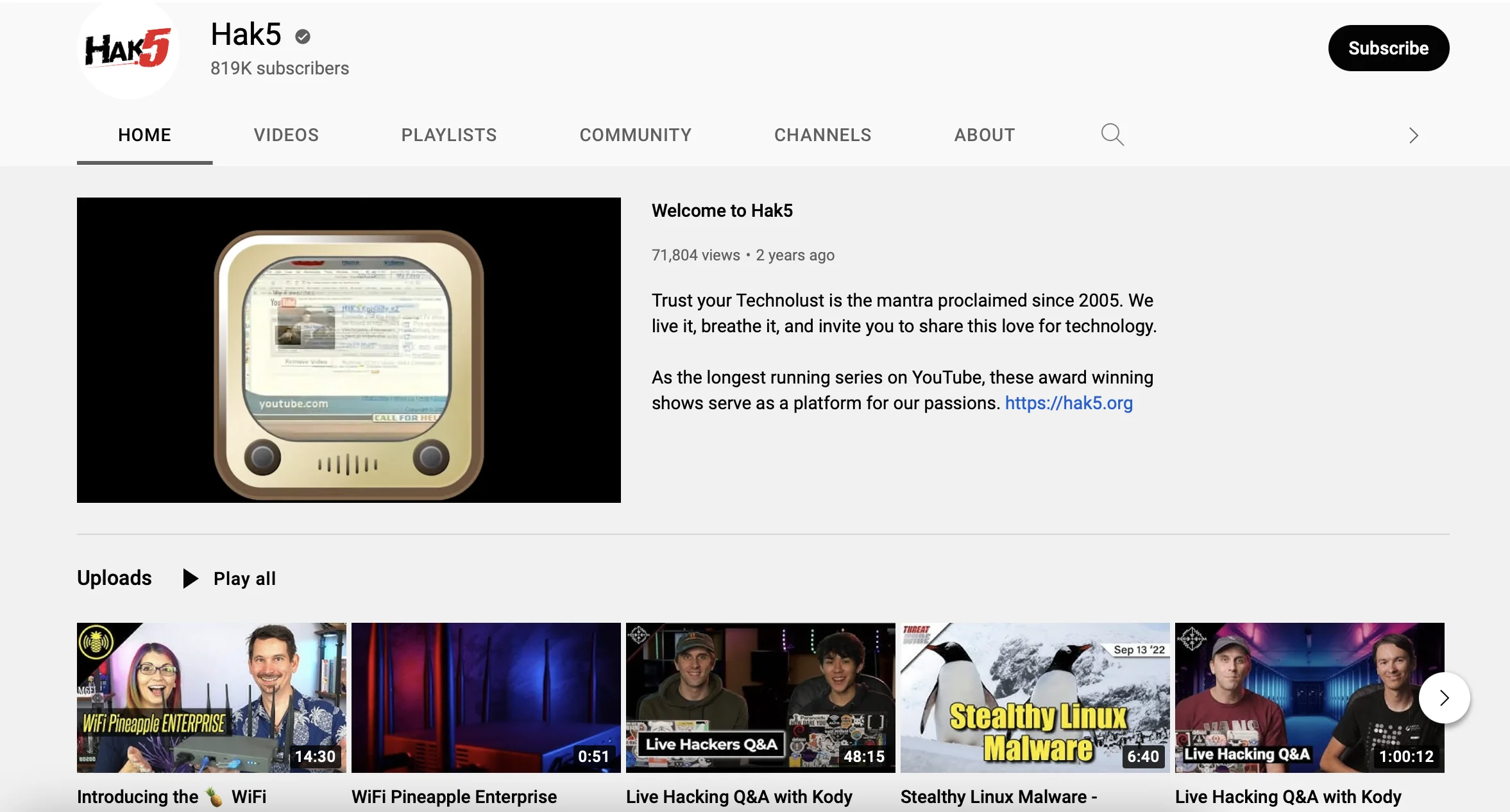 Founded in 2005, the Hak5 YouTube channel's mission is to advance the information security industry. 
On this cybersecurity channel, you can find award-winning podcasts, leading pentest gear, and an inclusive community—where all hackers belong.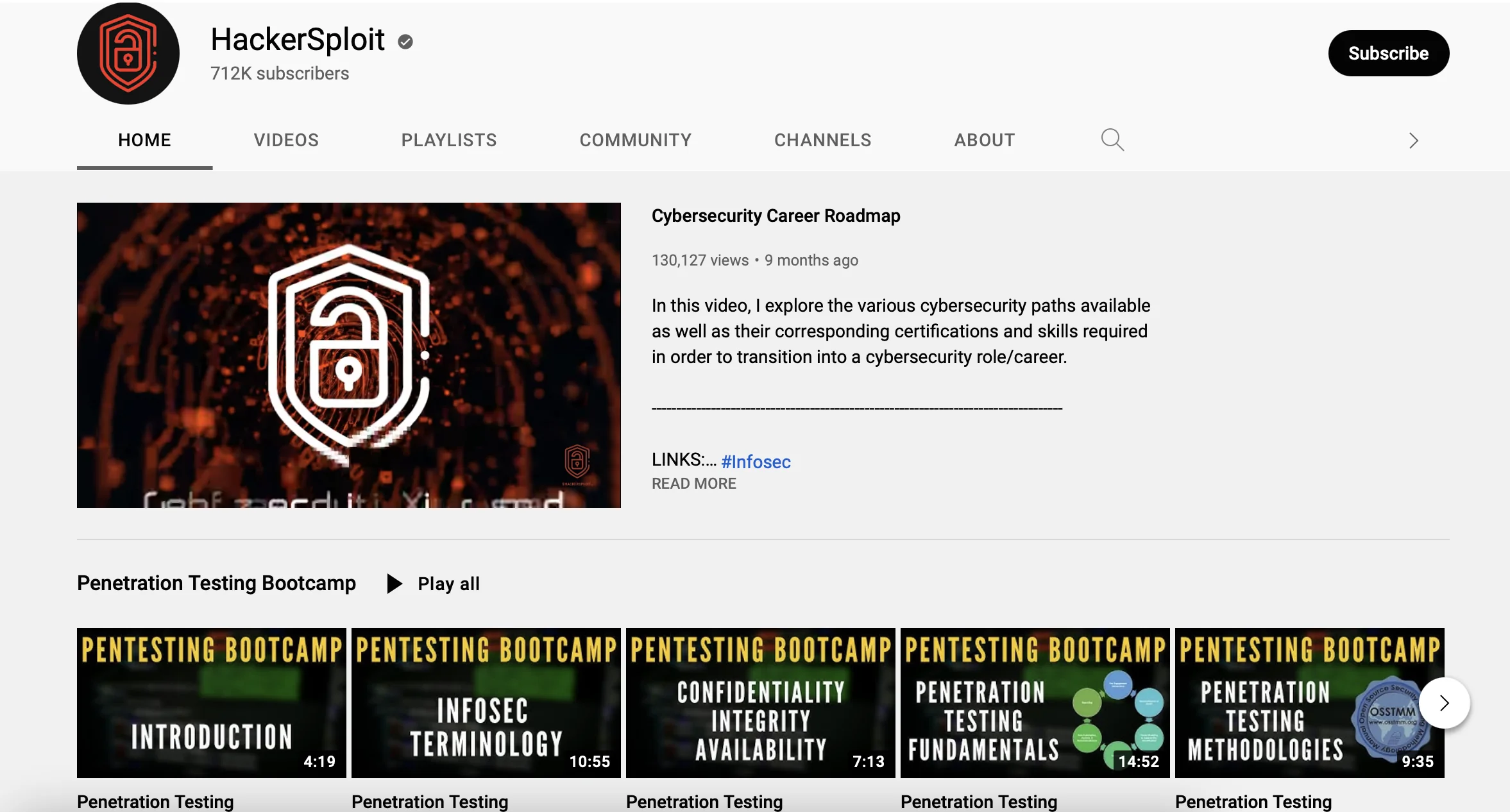 The HackerSploit YouTube channel is the leading provider of free infosec and cybersecurity training. Their goal is to make cybersecurity training more effective and accessible to students and professionals.
The channel provides essential training on how to attack and defend systems with virtual labs and real-world scenarios. It also offers individual and corporate training packages in penetration testing and red team operations, web application penetration testing, and cybersecurity awareness training.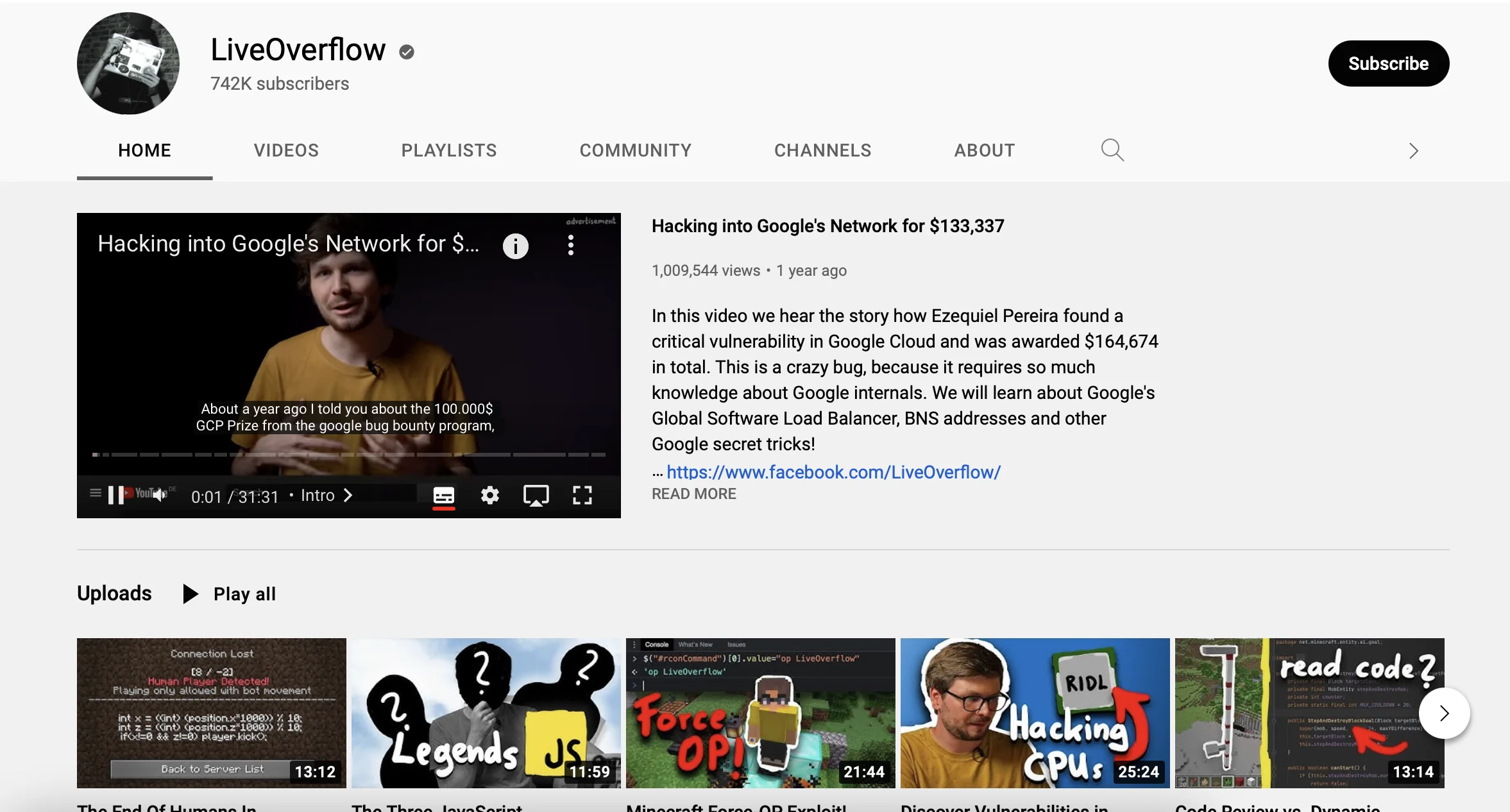 LiveOverflow is a cybersecurity YouTube channel loaded with free educational IT security content.
If you want to learn to hack and don't know where to start, the channel provides a clear guide to success.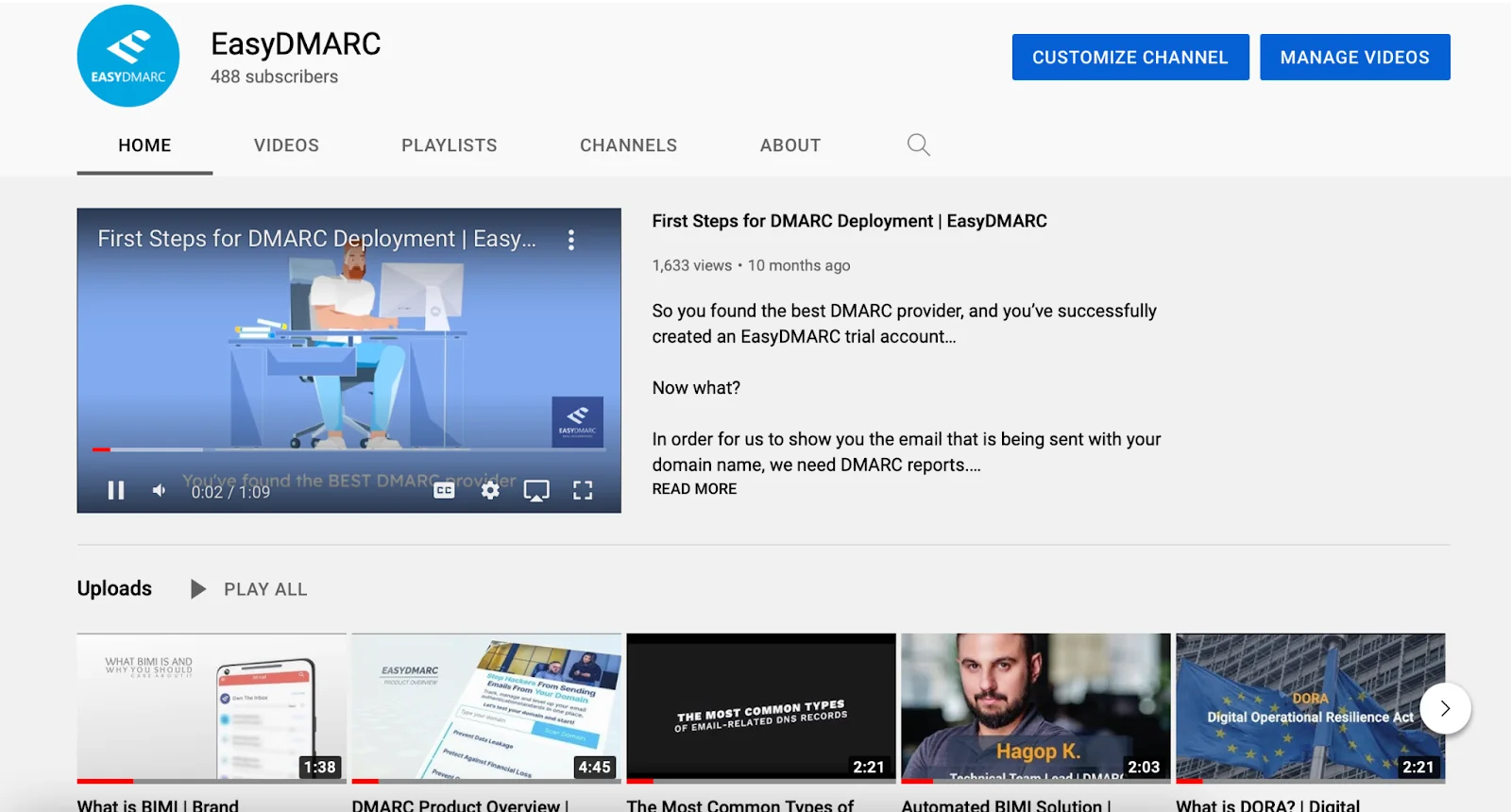 And finally, our list isn't complete without EasyDMARC's YouTube channel, where you can get valuable insights about email security and cybersecurity. From SPF and DKIM authentication to DMARC records, reporting, and more, our channel is the place to be if you want short, easy-to-understand videos on everything about email and cybersecurity.
Subscribe to our YouTube channel and get in touch to make your DMARC journey simple and easy.