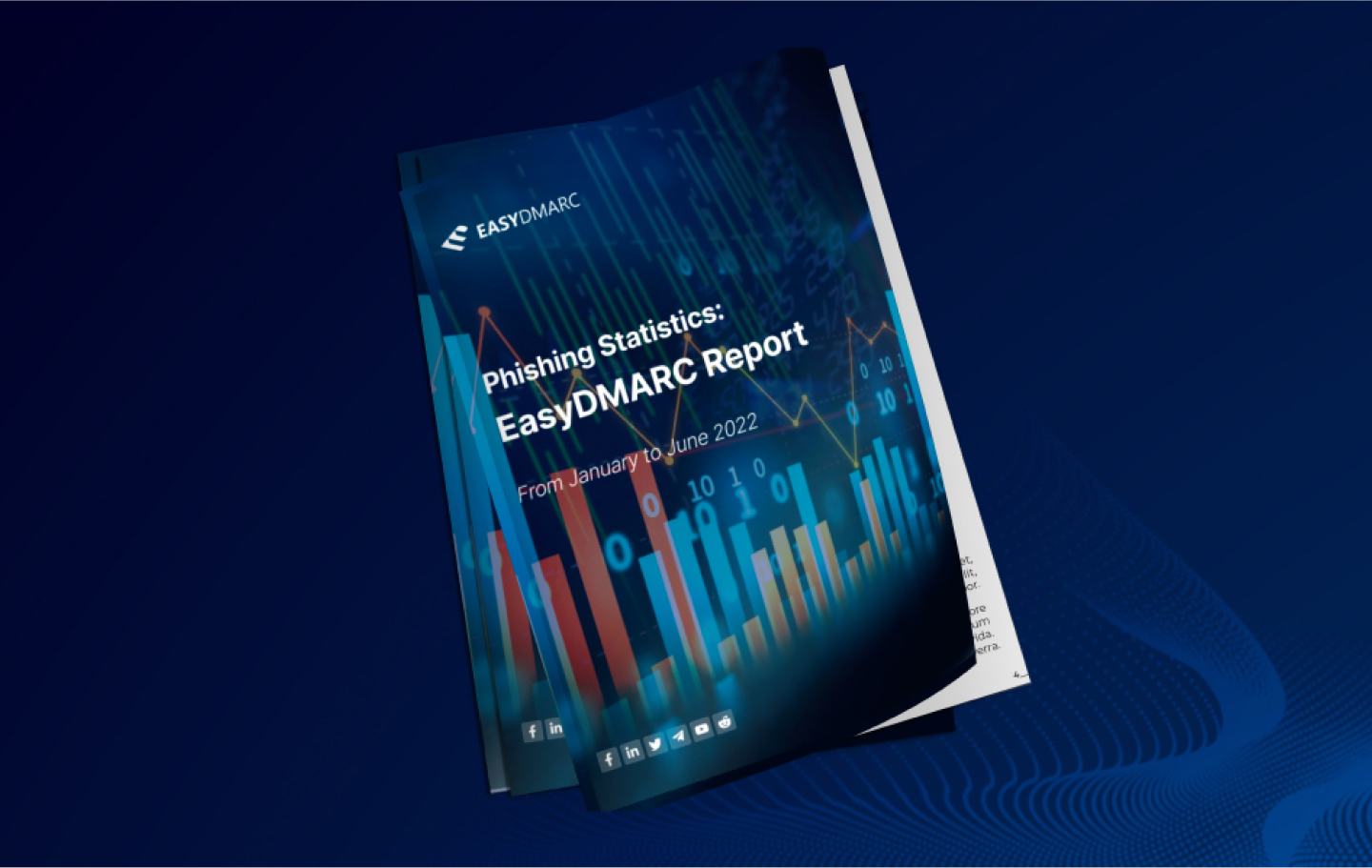 July 8, 2022
Phishing Statistics: EasyDMARC Report [January – June 2022]
It's no news that phishing leads all cyberattack types in volume and success rate. Phishing statistics by Verizon state that 93% of successful cyberattacks start with a spear-phishing attack. Phishing email statistics from other sources also mention that 96% of all phishing attacks arrive by email. This means that by protecting your email, you have the opportunity to block most phishing attacks.
While EasyDMARC is working to shield our customers from the menace called phishing, we also collect interesting data and are ready to share it with you!
Most data pertaining to protocol application, phishing countries, and blocked threats are in DMARC reports and are non-confidential. The information in this report is based on that data and accurately depicts our platform's usage and the phishing statistics we discovered in the first half of 2022. EasyDMARC's global representation and customer sample size give us the confidence that our report has some applicable tidbits of data for the cybersecurity community.
Let's dive into our findings.
Report Highlights
During the first half of 2022, EasyDMARC's platform blocked more than 90 million phishing attacks.

89% of our clients reported experiencing phishing attacks in the same period.

Finance is the most attacked industry globally, with a quarterly increase of 5.8% in the number of attacks.

We registered more phishing attacks in March alone than in all of 2021.

The Netherlands leads the list of target countries for phishing attacks. Russia, Moldova, the USA, and Thailand follow.

The percentage of

phishing attacks detected

by EasyDMARC increased by a staggering 62.9% compared to last year. This represents a 30% quarterly increase.

We quarantined more than 20 million emails on our platform.
What's in the Report?
The phishing statistics derived from our platform allowed us to break down our report into a few significant parts:
Phishing Attack Statistics by Industry
When customers register on our platform, we ask them to note the industries they represent (finance, marketing, healthcare, etc.). The sample size under discussion in this section is based on the fields they mentioned.
Phishing attack statistics in this section reveal that the Finance sector was the most targeted (with more than 10% ahead). Retail and Non-profits are in second and third place.
Phishing Scam Statistics by Country
The other interesting data point we could infer is phishing email statistics by the target country. Due to EasyDMARC's Aggregate Report Geomaps tool, we get a bird's eye view of where most phishing attacks are coming from.
Our report presents the top countries, led by the Netherlands, which comprised 17.7% of all the threats we registered.
Blocked Phishing Emails Statistics
To block phishing emails, customers have to have implemented DMARC's highest protection level – reject. The phishing statistics in this section consolidate the data from all our customers that did, presenting the data per "Blocked by Countries" and "Number of phishing emails blocked." Thailand is top of the list, with over 9,800,000 emails blocked.
Phishing Emails Delivered to "Spam"
If you read our blog and use our product, you know that DMARC improves deliverability. The data in this section comes from accounts that have enforced the "quarantine" policy.
Like in the previous section, the phishing statistics here come together per country and quantity. Russia takes the lead with almost 55% of emails delivered to spam due to the DMARC quarantine policy.
What Next?
Now that we've dabbed into the phishing statistics for the first half of 2022, we can note that phishing is definitely not subsiding. Our data reflects the findings in other (already published) phishing attack statistics.
With fast-growing phishing statistics, we can't leave the world without any protection. EasyDMARC's goal is to provide a top-notch email security solution for small and medium businesses and, more importantly, ensure our customers' peace of mind.