AWeber is an email marketing service provider. They help people keep in touch with the subscribers who have requested to be on their mailing list. Before sending emails from AWeber you should set up SPF and DKIM to ensure your emails are sent from your domain. In this article we will demonstrate the configuration steps for SPF and DKIM on AWeber to ensure it passes the DMARC alignment check.

Your first step is to access the Domains and Addresses page. To access the page follow the steps below and meanwhile have a look at the screenshot,
1 – Click on your profile name, at the bottom left corner,
2 – Click on My Account
3 – Enter Domain and Addresses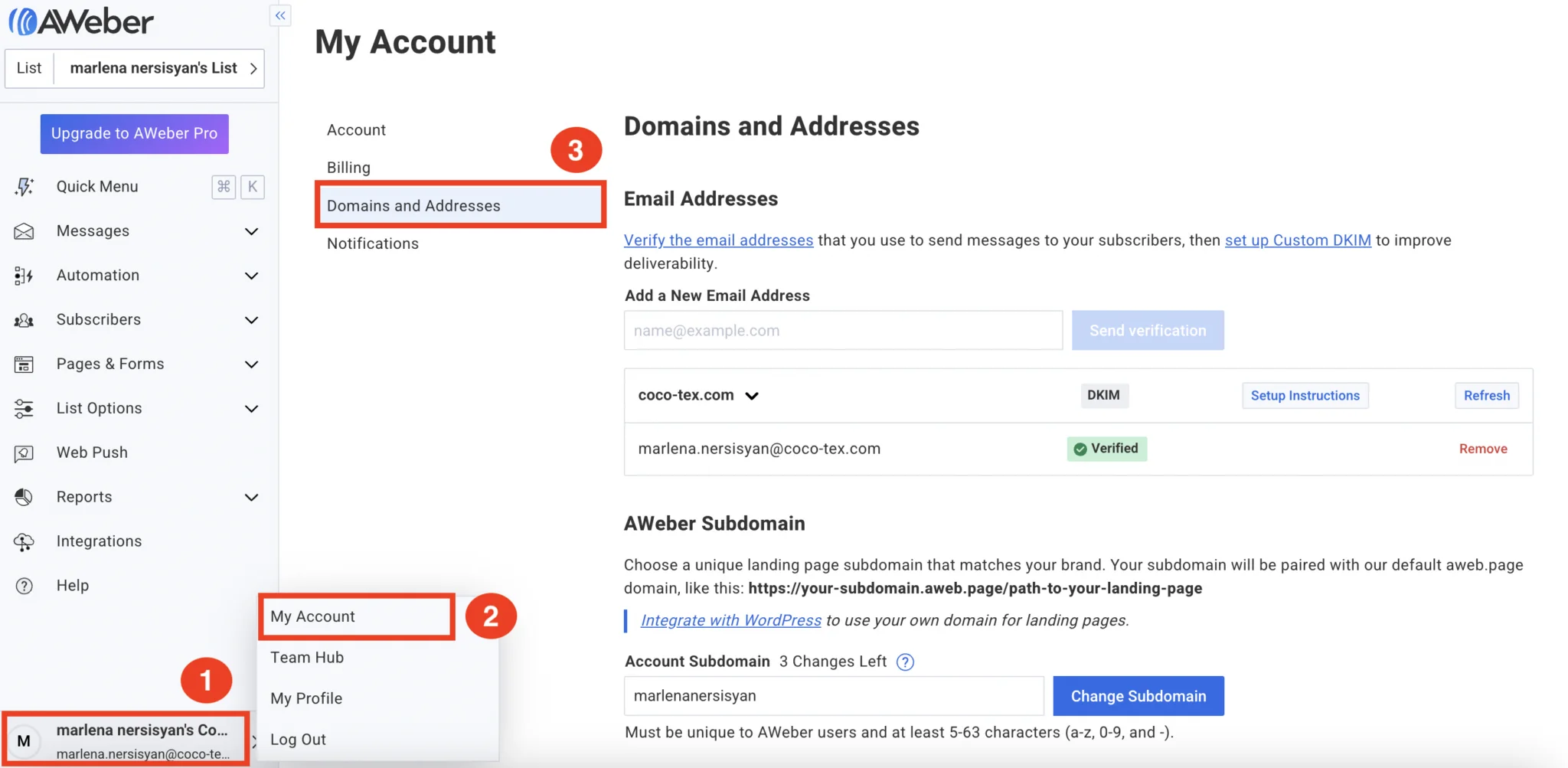 AWeber SPF Record Configuration
Note: There is no need to set up SPF record for AWeber, as the "Envelope From" domain will always be handled by the server of AWeber. For SPF to be aligned you should have your "From address" domain in the "Envelope From" address. AWeber always handles the "Envelope From" domain, during the DMARC check, this "Envelope From" domain will not match with your "From address" domain, so SPF alignment will fail. This happens not only with AWeber but with the majority of Email Service Providers. Sometimes, you'll be suggested to add "include:send.aweber.com" to your SPF record, but doing this you won't achieve alignment. Instead, you'll just whitelist the IP addresses of AWeber, simply wasting precious DNS lookups.
In case you add the include provided from AWeber, in your SPF record, your SPF record will look like the one below,
v=spf1 include:zoho.com include:mxsspf.sendpulse.com include:send.aweber.com ~all
Just be informed that there is no need to do this, as SPF will fail due to misalignment, even if you add that "include" in your SPF record.
AWeber has an article regarding the SPF alignment as well, you can check it out in this link,
DMARC requires either DKIM or SPF to be authenticated and aligned, so you will pass the DMARC check even without SPF alignment. SPF alignment failing won't affect your email deliverability if you have DKIM in place. Thus you need to set up only DKIM for AWeber.
AWeber DKIM Record Setup:
In the Domains and Addresses page click on Setup Instructions next to the domain you want to authenticate.


Once you click on Setup Instructions, you will be provided with three CNAME records for DKIM to publish in your DNS zone.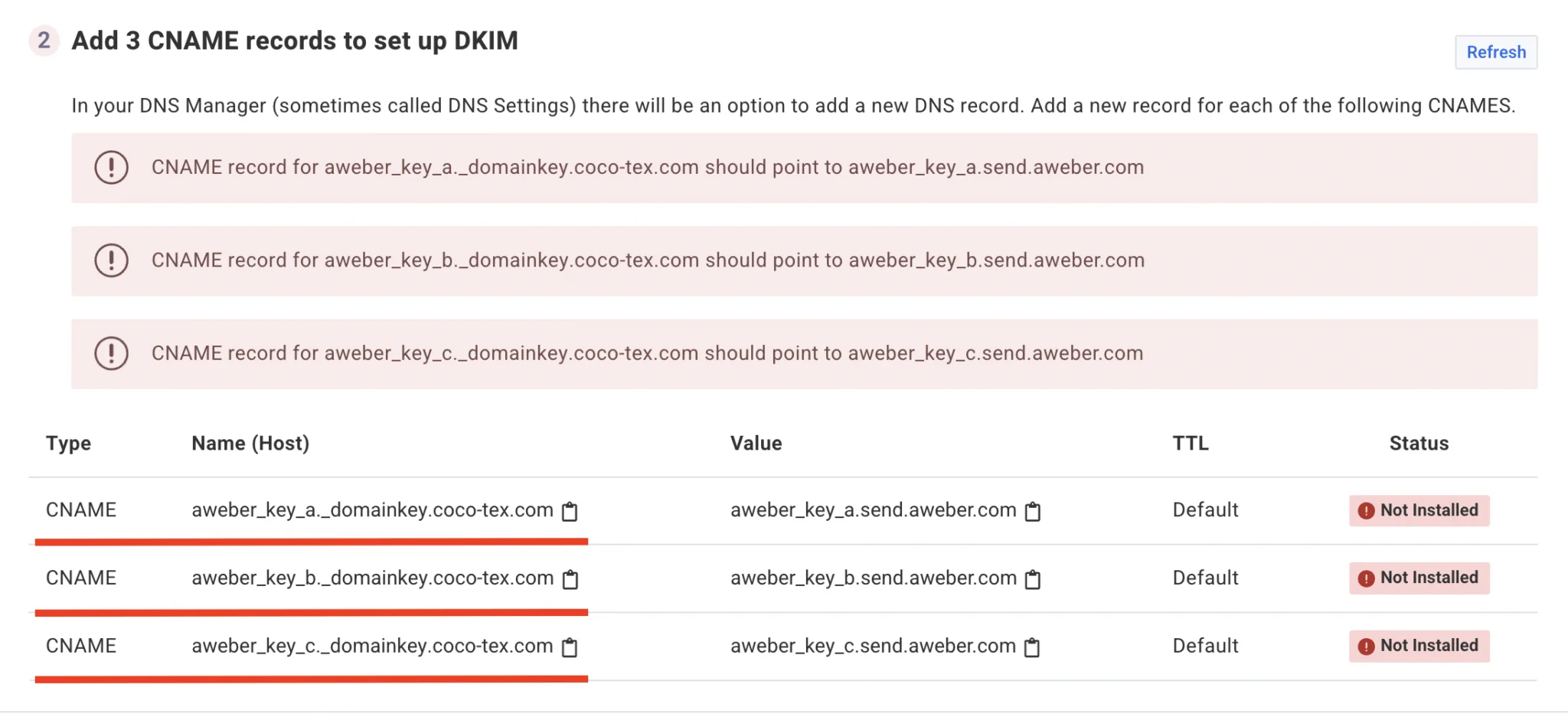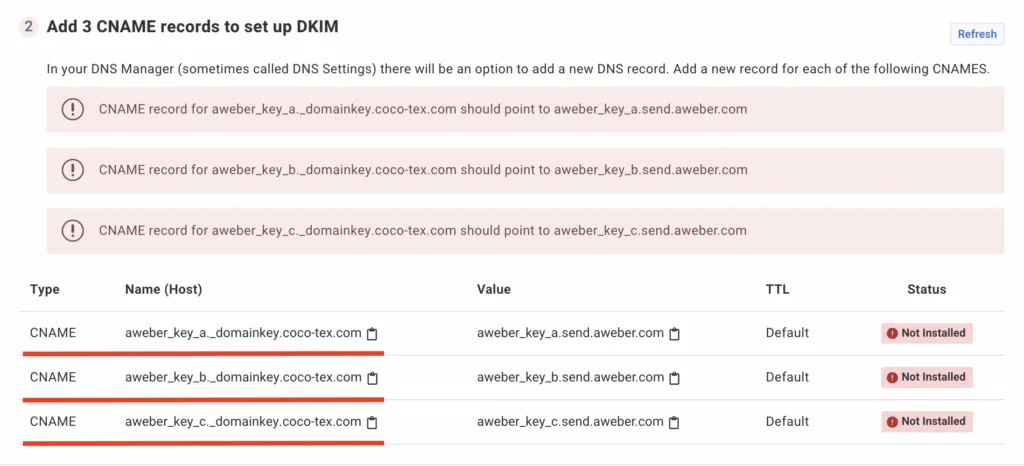 Copy and paste the CNAME Records for DKIM in your DNS host.
See an example of added CNAME Records in Cloudflare DNS in the screenshot below,


When you finish publishing the CNAME records, move back to your AWeber account and Click on the Refresh button above the records. In case you have done everything properly, green check marks will appear next to the CNAME records, which means that the DKIM record is set up successfully.


You can test it with our Email Investigation tool. (See the screenshot below)