April 9, 2018
EasyDMARC email security solution
EasyDMARC is a data driven email security solution to protect your domain and organization from phishing attacks. Phishing is the number 1 cybersecurity problem nowadays.
Numbers about phishing and email fraud are huge:
The average financial cost of a data breach is $3.86m (IBM)
Phishing accounts for 90% of data breaches
15% of people successfully phished will be targeted at least one more time within the year
BEC scams accounted for over $12 billion in losses (FBI)
Phishing attempts have grown 65% in the last year
Cybercriminals are creating around 1.5m new phishing sites each month (Webroot)
76% of businesses reporting about being a victim of a phishing attack in the last year
Users opening 30% of phishing messages  (Verizon)
EasyDMARC's email protection SaaS platform has amazing solutions for individuals and organizations of all sizes. So it is more than just email protection tool or report, it is your data-driven solution that helps to secure YOUR domain, makes DMARC easy to understand, adapt, and maintain. EasyDMARC continues growing DMARC across the Internet. EasyDMARC helps you to monitor and understand Your domain as much as possible.
We provide flexible tools and AI powered data classification and visualization to enhance your domain security and mitigate security risks.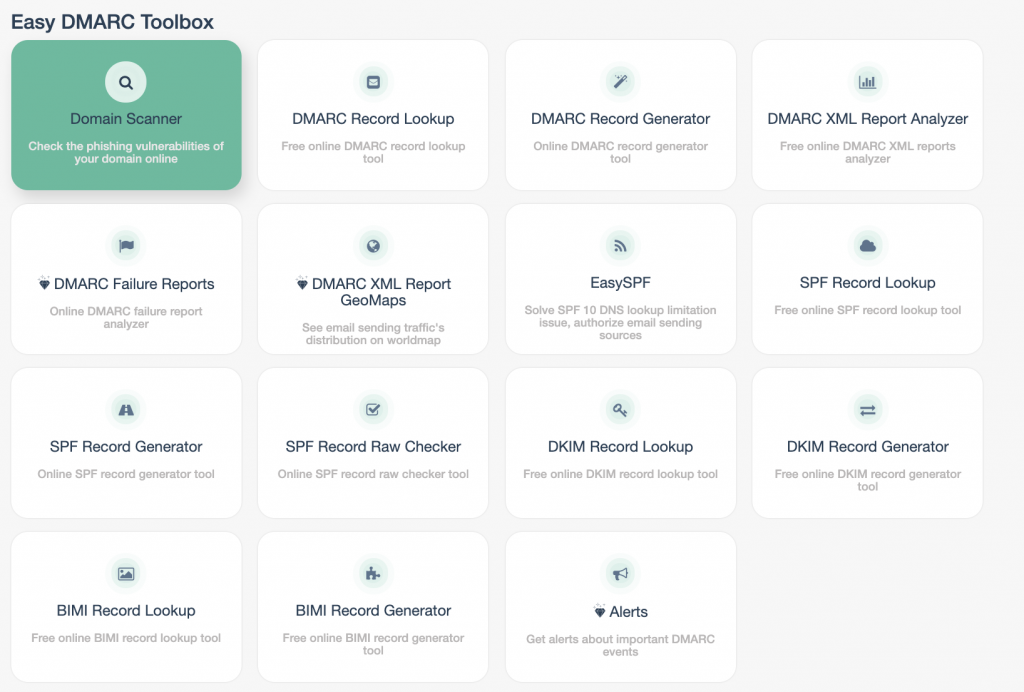 Do you want to improve your email security, protect your domain from phishing and improve your domain reputation? Do you already have insight in who is sending mail on behalf of your domains?
Start using EasyDMARC email security solution to prevent Your business from phishing attacks. 
The first step is to start with a simple "monitoring-mode" record for a sub-domain or domain.  DMARC receivers send you statistics about messages they see using your (sub-)domain.