EasySPF
EasySPF eliminates the tedious tasks during SPF setup. Here's how:
Add the SPF record on DNS once.
Manage from a centralized interface
Solve 10 DNS lookup limitations.
Optimize the record without syntax knowledge
Avoid the risk of configuration errors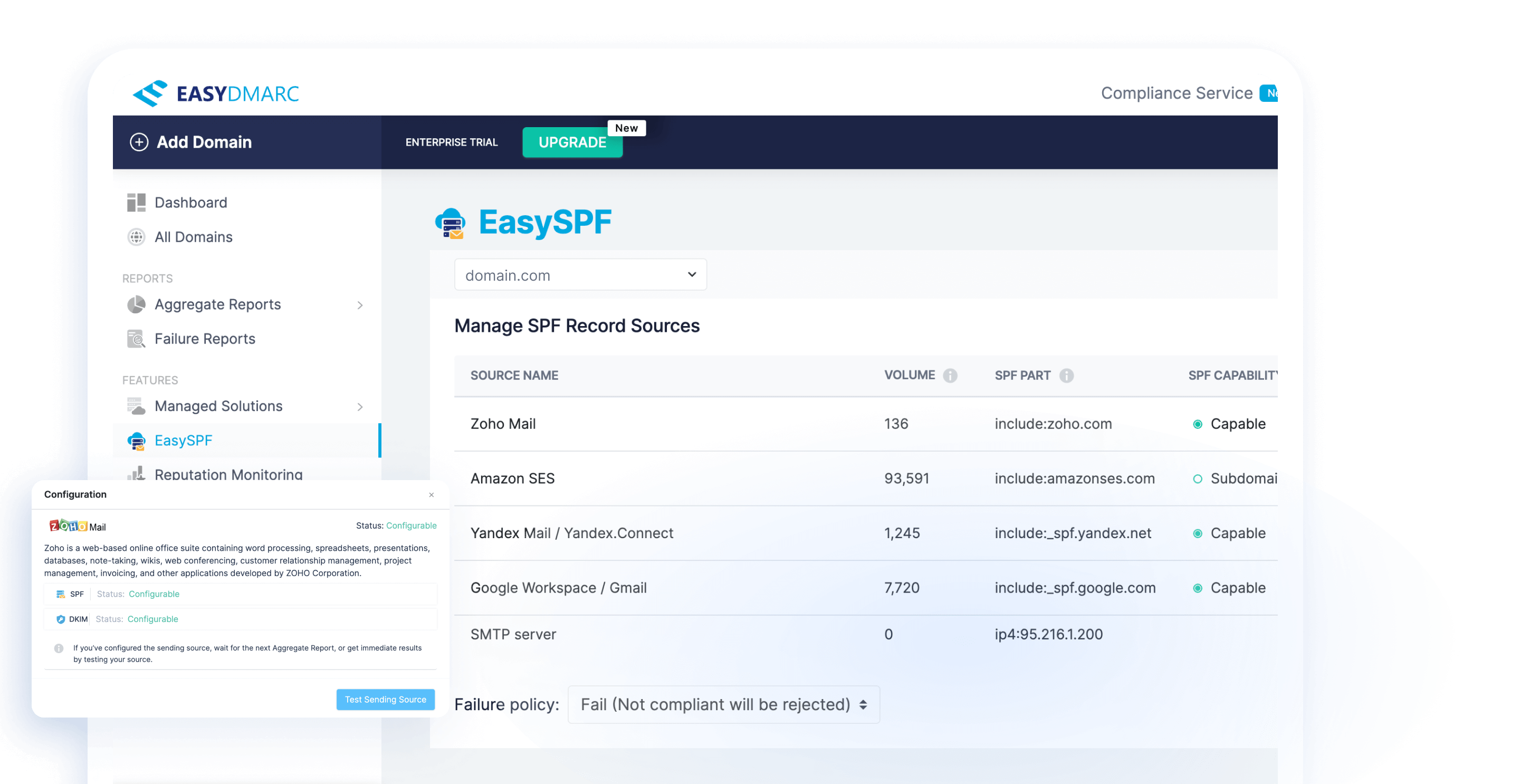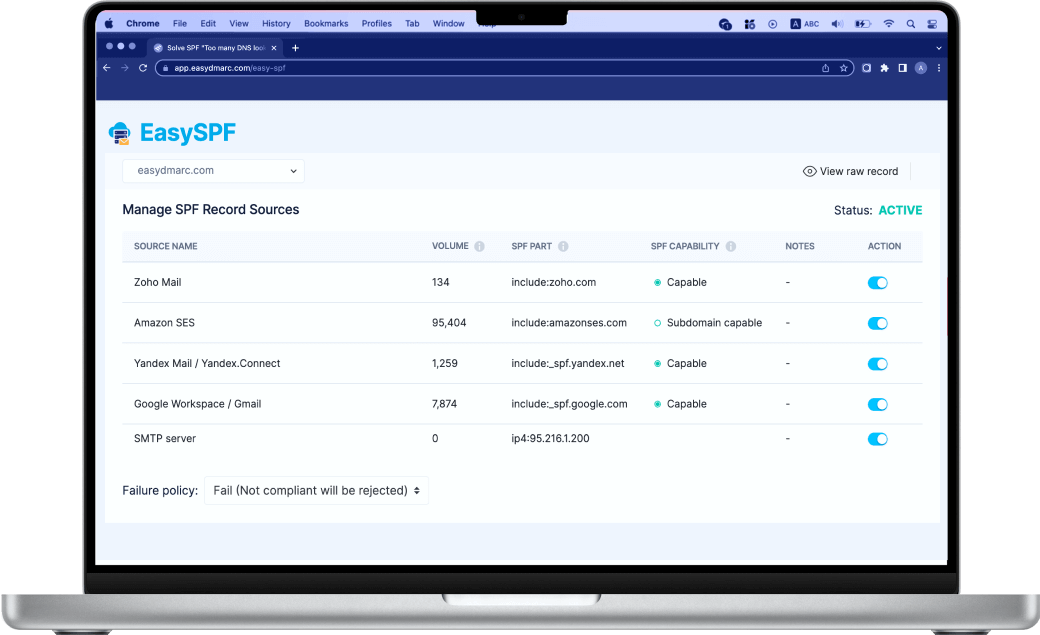 Why Choose EasySPF?
One-Time SPF Setup in DNS
Updating an SPF record to depict all your sending sources can be a time-consuming task, especially when you're just setting up your email authentication protocols.
EasySPF eliminates the constant back and forth to your DNS provider. Set up the record once, and the further changes you make in our platform will be automatically depicted in the DNS.
Centralized SPF Management
The challenge of configuring, monitoring, and keeping an SPF record up-to-date is real, especially for companies with multiple sending sources and domains.
EasySPF simplifies adding new sources and updating existing ones. It also takes multiple domain SPF record management to a new level due to its straightforward and easy-to-use design.
Solve SPF Lookup Limit
"Too many DNS lookups" permerror is one of the most common issues in SPF record management and results in an immediate protocol failure.
EasySPF uses a dynamic SPF flattening algorithm that swaps the domain includes in your record with IP addresses. This feature also detects and applies changes to ensure your record is up to date.
No Syntax Knowledge Necessary
SPF syntax is quite straightforward, but making frequent changes during SPF configuration can result in small errors that could break your SPF record.
EasySPF offers an intuitive way to add or remove sending sources to your record. You don't need to see the SPF syntax after copying and pasting the record into your DNS provider.
No Configuration Errors
Working with a raw record is tricky. Miss a colon or a space, and you'll be left with a record that doesn't work.
EasySPF takes all the configuration processes into a streamlined process, where adding a new source is as easy as selecting the source from a dropdown menu and clicking a few buttons.
More Benefits of
EasySPF
Keep your SPF Up-To-Date
SPF records can contain outdated data and sources. EasySPF feature allows you to integrate DMARC Aggregate reports to ensure your whitelisted sources match the current ones you use.
Automate for Team Productivity
Your email sending sources stem from all ESPs and mailboxes used in your organization. Pinpointing and gathering all of them is a team effort. Use EasySPF to speed up SPF configuration process.
Keep the Necessary Sources
While the team needs to give some input, misinformation related to the sources included in the SPF record can become an issue. EasySPF eliminates the chaos and puts you on top of SPF configuration.
Become Proficient in Source Whitelisting
Managing email sources can become cumbersome. We've made your SPF configuration journey a breeze. With a single click, whitelist your email source, then rinse and repeat until you list them all.
Explore All EasyDMARC Tools To Improve Your Domain
Security and Email Deliverability
Lookup tools
Generator tools
Other tools
Join the 45,000+ businesses growing safely with us
Make Your DMARC Journey Simple With EasyDMARC