BIMI SVG Logo Converter
Convert your company logo into a BIMI-compatible SVG file.
Create a BIMI Record to Enhance Brand Recognition
Acquiring a properly-formatted company logo is one of the first steps in BIMI implementation. Before SVG conversion tools, you'd need a designer's help and a visual tool like Inkscape or Adobe Illustrator to make the file.
To make your life easier, our system does it automatically. You simply need to point our tool to the vector-based logo file, and it'll return it in the necessary format. We can parse the image from a public URL or your domain. Alternatively, you can upload the logo file to our BIMI SVG converter directly from your computer.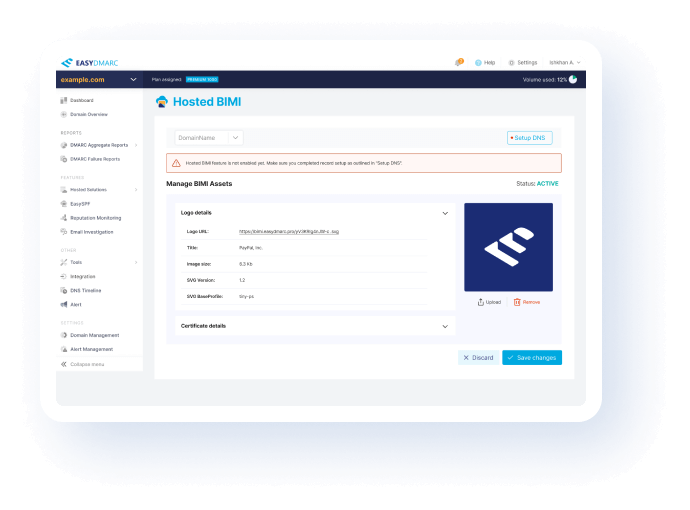 DO's and DON'Ts for BIMI SVG Tiny P/S Document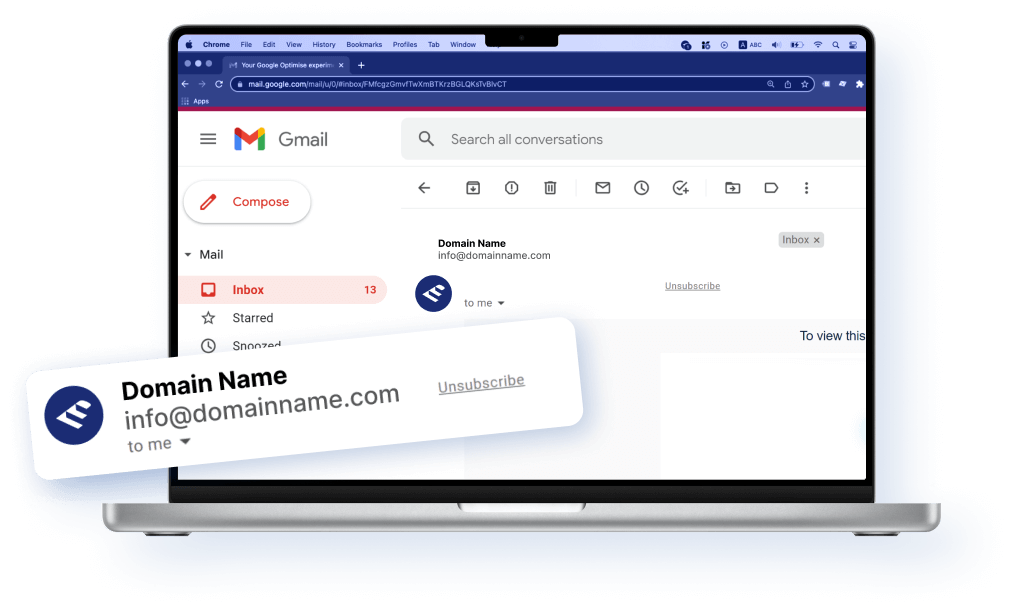 DOs:
DON'Ts:
Host your logo on a website that doesn't contain an SSL certificate
Use a logo that contains external images (href="data:img/png;base64)
Implement BIMI before advancing your DMARC policy to quarantine or reject.
Frequently Asked Questions
What Is BIMI Logo Converter?
The logo referenced by a Brand Indicators for Message Identification (BIMI) record must be in a specific SVG Tiny Portable/Secure (SVG P/S) format. Existing graphic design software and generator tools don't support that format yet.
EasyDMARC provides a tool to fix SVG Tiny 1.2 issues and convert SVG Tiny 1.2 images and logos to BIMI-compatible SVG P/S images.
How to create a BIMI SVG logo?
A BIMI-compatible logo is a square vector image, formatted into SVG Tiny 1.2 format. The correctly-formatted file must be published on a website with an SSL Certificate (https:// and NOT http://).
With that in mind, you can create your BIMI SVG Logo in one of the two ways:
Automatically: Our BIMI Logo Converter tool makes the required changes without you even noticing.
Manually: If you're having trouble using our BIMI SVG Logo Converter tool, you can use our step-by-step guide to perform the changes manually using InkScape.
How to Troubleshoot Most Common Issues During Logo Conversion?
During logo conversion, our platform uses the RNC Schema for BIMI SVG logo verification. We return a list of errors in case your logo contains issues or doesn't meet the requirements.
The most common errors include the following:
value of attribute "version" is invalid; must be equal to "1.2"
element "svg" missing required attribute "baseProfile"
missing required element "title"
To fix the issues, always focus on early errors, as resolving them often clears up issues reported later in the list. For example, if the attribute "version" value is invalid, it must be equal to "1.2," which indicates that your logo is not BIMI SVG Tiny 1.2. Rectifying that error might also cause other issues (not all) to disappear.
One of the most common problems with the BIMI SVG Logo is the usage of bitmap images in the logo file. To find out if that's the case, follow these steps:
Download your logo.
Open the SVG file on Notepad (Windows) or another Text Editor file.
Check or Find the word "/img" or "base64."
If the search returns a result, your logo contains an external bitmap image that should be deleted.
Explore All EasyDMARC Tools To Improve Your Domain
Security and Email Deliverability
Lookup tools
Generator tools
Other tools
Join the 45,000+ businesses growing safely with us
Make Your DMARC Journey Simple With EasyDMARC