Stay Ahead of
Infrastructure Changes
with EasyDMARC's

Alert Manager
Receive real-time and relevant alerts for complete control. Make informed decisions and take prompt action with our improved alerting feature.
Get Started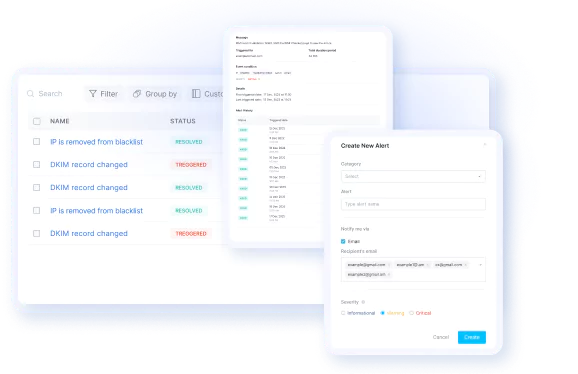 What Is the Alert Manager?
EasyDMARC's Alert Manager is a streamlined way to inform you of any infrastructure changes like DMARC, SPF, DKIM, and BIMI record modifications or validation failures. As soon as an event is triggered, you receive an email notification.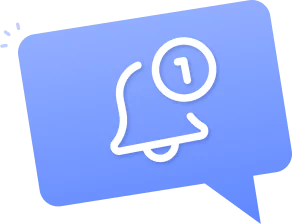 Benefits of EasyDMARC's Alert Manager
Receive real-time email alerts for the most important events happening to your domains.
Define your business needs and customize your alerts to meet them.
Control all the moving parts of your email infrastructure.

(We're enhancing the event list as we speak.)

Set up our predetermined alerts to save time and effort.
Share specific alerts with relevant teammates.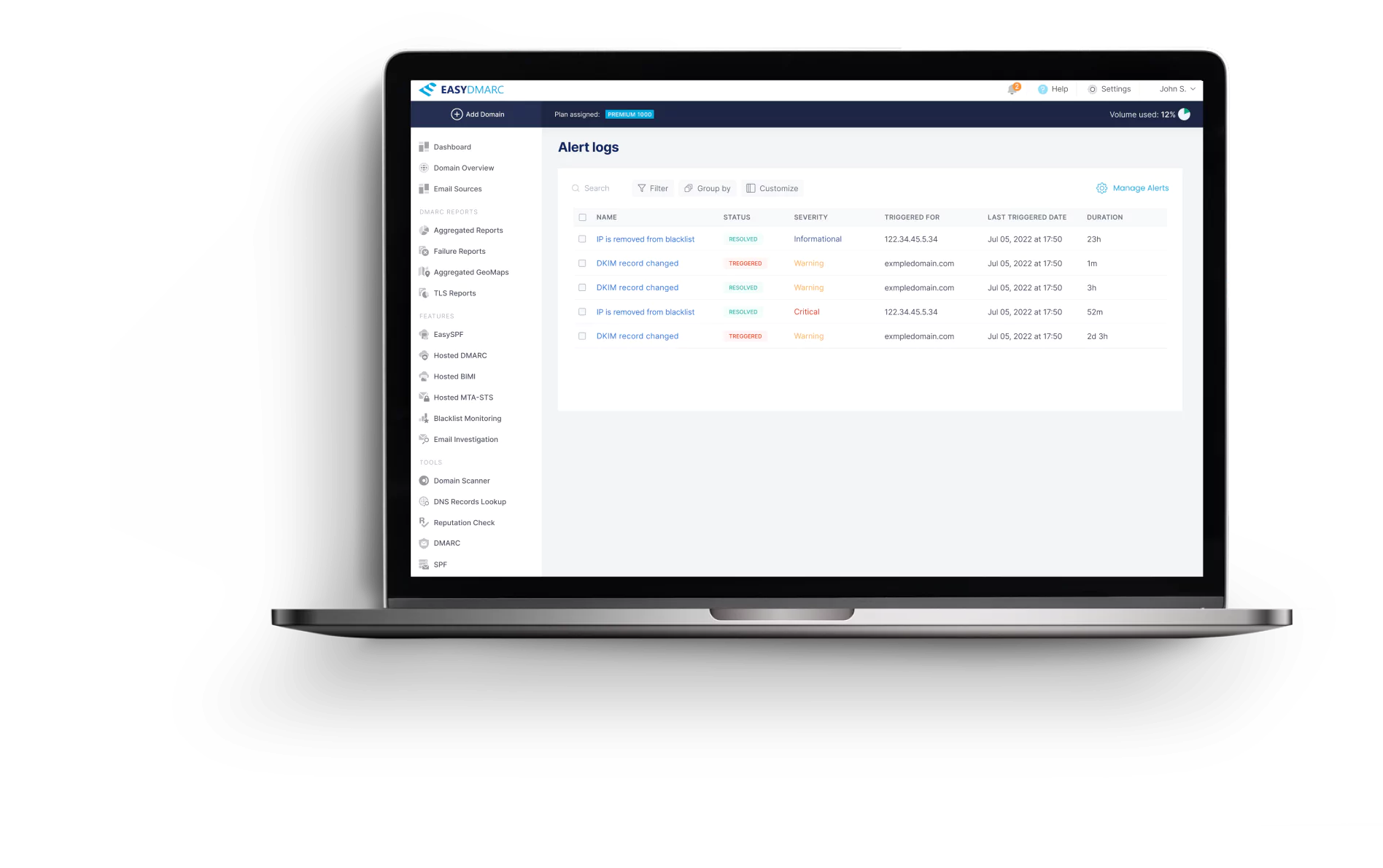 What's in the Feature?
"Manage Alerts" View
See the alerts you've set up with the condition and severity indicators. You can toggle each alert on or off, modify or delete it. Creating new alerts from scratch is also possible.
"Alerts Logs" View
Review the history of alerts with their status, severity, trigger date, and the domain or IP it refers to. You can filter, group, and customize the alerts using preferred criteria.
Email Alerts
Whenever an event is triggered, the system sends an email notification to the email address specified in the alert. Organization owners and admins can assign alerts to internal and external team members.
Weekly Alert Digest
This weekly email informs about the overall alert counts – the number of triggered, active, and resolved events. This helps keep track of your progress.
Frequently Asked Questions
How Does EasyDMARC's Alert Management Work?
Alert Management lets you set up alert notifications for different changes on the platform. When creating alerts, you can specify the following criteria:
Trigger (e.g., "DMARC record changed" or "SPF Record authentication failed," etc.)
Alert recipient(s) (these could be team members and people from outside your organization)
Alert severity (critical, warning, or informational)
When an alert is triggered, you receive an email. You can review the details by logging into your account and going to the "Alert Log" page. Afterward, you'll have to define and fix the issue from the system.
What Is an Alert Log?
Alert Log shows the history of all alerts that were triggered based on the events on the platform. You can check the details of every alert, how many times it was triggered, and when.
In Which EasyDMARC Plans Alert Management Is Available?
The alert manager is available for all customers.
My Alert Manager Contains Alerts I Haven't Created. Why?
These are the default alerts. Although you can edit them, we recommend leaving them as is so you address important events promptly.
How Do the Default Alerts Work?
We create a set of default alerts for every existing or new domain. These are created for the Organization Owner, who will receive email notifications by default. You can see the default alerts in the Alerting Manager menu and edit them as you like (e.g., change the recipients or severity level, etc.). At the same time, all administrators can see the alerts in the Alert Log.
Can I Create Custom Messages for My Alerts?
No. The notification content cannot be customized. Please let us know if you believe we should improve it or add more information.
Can I Decide Which Alerts I Want To Receive?
Yes. You have complete control over what alerts you receive. If any alert loses relevance, you can delete it.
Can I Set Alert Severity Levels?
Yes. You can choose between Informational, Warning, or Critical options when creating alerts.
Can I Decide Who Should Receive Alerts?
Yes. When creating alerts, you can provide the email addresses of all recipients that should receive them. Editing the alert to add and remove recipients is also possible.
Through What Communication Channels Do You Deliver Alerts?
For now - only emails. However, we're looking to add in-app and Slack notifications soon.
How Often Do I Receive Alerts From the Platform?
All alerts are sent almost instantly upon the triggered event.