What is an SPF Record? This is a special DNS TXT Record that lists the IP addresses from which you can send emails on behalf of the domain.
This article explains how to set up an SPF Record and what happens if there is "No SPF Record Found"?
Why Do You Need an SPF Record?
After setting up an SPF Record and specifying all your IP-addresses in it, mail providers understand that the received letter was actually sent on behalf of your company's domain. This prevents the spammer from using your domain for phishing.
About SPF Record Syntax
SPF Record is in TXT format. It lists the IP addresses from which you can send emails on behalf of the example.com domain. Other IP addresses will not pass the SPF check.
Also, an SPF Record for one domain can include a link to a Record in another domain. To do this, add the include: modifier to the body of the Record. When reading the sending domain's SPF record, a request is made to the domain record specified in the "include:" modifier. 
Below is an example of an SPF TXT Record for the example.com domain with the "include:" modifier:
v=spf1 include:_spf.google.com ~all 
The "include:" directive contains SPF record for the domain _spf.google.com, including all the Google IP Addresses used for the outgoing mail stream. So, this way Google can add and remove mail servers without you (domain admin) having to change SPF records whenever Google updates its settings.
How to Set Up an SPF Record?
First, you need to determine the IP addresses that are allowed to communicate on behalf of your domain. We call these "senders."
Below are some sender examples:
1. Servers that send emails on your domain's behalf
2. Third-party providers, you use for your various email strategies (Marketing, Transactional, etc)
3. Services that generate automatic emails on your website (e.g "Contact Us" form)
*Ensure to mention all the possible senders. If you miss any options, the communication with subscribers or colleagues may be disrupted.
4. Next, create an SPF Record according to the protocol syntax. You don't have to so it from scratch, just use our free SPF Record generator to get a ready record.
5. After generating an SPF Record, add a TXT record to your DNS (depending on the provider, the process may vary) and include the ready SPF record in it.


6. After you publish the TXT Record, you can verify the syntax of your SPF Record simply using our free SPF Lookup tool. You can also use this tool to learn if any website has a valid SPF record or not. If the given site admin hasn't implemented SPF, you'll definitely see the "no SPF record found" alert after the check.
What Happens if the Lookup Returns "No SPF Record Found"?
An SPF record is a requirement for most email providers. If the tool finds no SPF record, your sent emails will most likely end up in the "Spam" folder. The same will happen if the SPF Record exists, but the IP address from which the message is sent is not present in the allowed list.
EasyDMARC's lookup tool will give you the assessment of your domain and let you know if you've ever configured SPF. If the domain is new or you've never bothered with the protocol, the "SPF record not found" is a simple outcome you'll have to fix.
Another reason for "no SPF record" might be a misconfiguration. For example, you might be checking the subdomain, while you've only configured the protocol for the root domain.
Here is an example of 'No SPF Record Found' in our checker.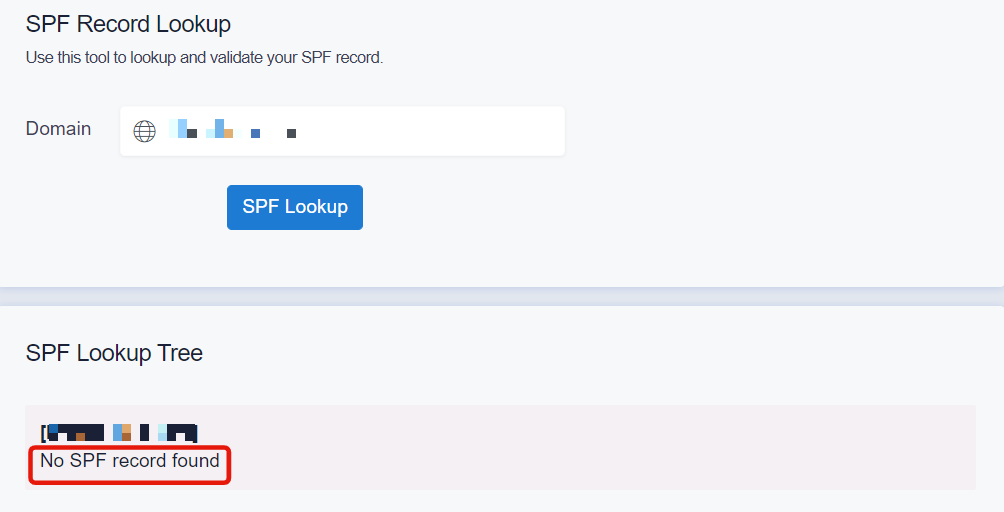 Therefore, configure the correct SPF Record to return positive results during the lookup.
What Happens if  SPF Record is Not Found?
So what happens if there is "No SPF Record Found"? Most Internet Service Providers (ISPs) will give you a poor reputation score and route your email to the spam or junk folder — some may even just block the email entirely. However, the worst that can happen as a result of the "no SPF record found" alert, is the communication disruption with your colleagues, partners, and most importantly, customers.
With the help of EasyDMARC, you can observe and analyze your outgoing email stream, check both SPF & DKIM Authentication results, and work towards the implementation of both (SPF & DKIM) Records.
Also, check our article to get a comprehensive understanding of DMARC Reports and how to fix SPF too many DNS lookups error.
Fixing "No SPF Record Found"
There isn't one ultimate rule for adding the correct SPF Record. It highly relies on your own infrastructure, and what services you use for your various email strategies.
Our recommended strategy, of course, is to implement DMARC and start collecting detailed DMARC reports. They'll help you gain insight into your email infrastructure and with our 'Email Vendor Identification' feature, point to the sources that need proper SPF and DKIM authentication.


You can also read our blog to learn more about SPF and DKIM implementation steps for various ESPs and third-party providers.