Alerts
Monitor your domain without having to log in to EasyDMARC platform
Receive critical security threat information in the quickest and most efficient possible way, gain awareness on events and act against them in time.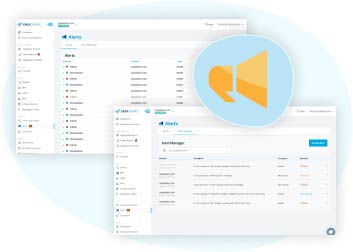 How does it work?
You choose which changes to trace, and thus the alerts ensure that you're aware of the changes in real time. As soon as we notice a DNS change, a change alert gets triggered. If a DNS record stays identical, no record change is logged. When a record change does occur, it gets sent to the Alerting page for evaluation based on your alert configurations.
Why Set Up Alerts?
Alerts are beneficial in any deployment phase. During the initial stages of your DMARC project, you may want to trace all the changes you're actively making; once you've secured your domains with a DMARC enforcement policy, EasyDMARC's alerting system will help operationalize DMARC by focusing alerts on broken records and potential domain abuse. Regardless of the alert type, it's important to find changes quickly and take corrective actions as required.
Why Do You Need Alerts?
Alerts are an essential addition to your domain's DMARC configuration. Whether you're at the monitoring phase of your DMARC deployment, or at DMARC enforcement, alerts facilitate your stay up-to-date on all domain-related events. Alerts provide you with at-a-glance, as well as detailed insight into your domains, instantly notifying you of email-related DNS changes, impersonation attempts and when a threshold metric specified by you for your domain is crossed. It helps you gain awareness on events and act against them faster.