DMARC Report Analyzer
Want a smart and approachable way to deal with Aggregate XML reports? EasyDMARC's DMARC XML report analyzer ensures simple and automated data conversion into an easy-to-understand visual interface.
Visualize Your XML Files With Our DMARC Report Reader
Whether you get your XML reports in-app with EasyDMARC's "rua" tag or otherwise, you can use our DMARC Aggregate report parser to a great extent.
Analyzing and understanding XML reports is one of the crucial steps during DMARC implementation. They contain precious information about your sending sources and give you a bird's eye view of your domain infrastructure.
While it's possible to review them manually, the process can become daunting very fast, as Aggregate reports contain a massive amount of raw data. A decent XML reader gives you a better way to interpret the DMARC Aggregate report files and take action based on the analysis.
EasyDMARC's DMARC Report Analyzer is a reporting tool that propels visualization of DMARC Reports to a whole new level!
Start Free Trial
* no credit card required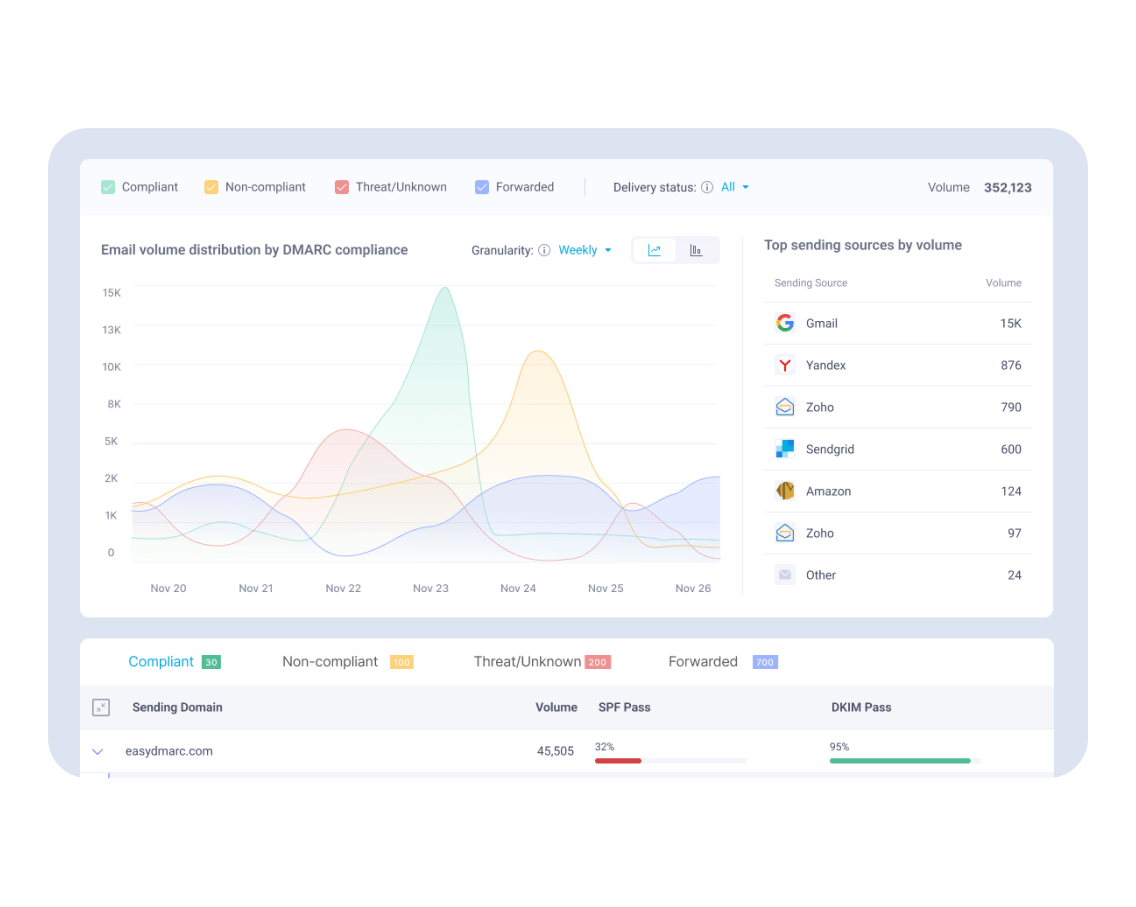 Gain Full Visibility Into Your Email Channels
EasyDMARC's DMARC Report Analyzer is a smart solution that helps you monitor, analyze, and take action on your DMARC Aggregate reports.
Our free DMARC report analyzer offers a comprehensive analysis of your sending sources, categorizing them by compliance. It gives you four possible results:
Compliant (your legitimate sources meet compliance via SPF and/or DKIM authentication and alignment),

Non-Compliant (your sending sources fail DMARC compliance checks),

Threat/Unknown (a spoofing or fraudulent attempt is detected on your domain's behalf)

Forwarded (your receiver forwards your email to another recipient).
Based on these groupings, you can investigate each source, pushing them into compliance by solving the individual issues that made them fail.
You can also add an extra kick to the DMARC Aggregate Report Analyzer's functionality with our Aggregate GeoMaps. It completes the picture of your reports by providing another layer of visualization for DMARC Aggregate reports.
Benefits of Using a DMARC Report Analyzer
DMARC Aggregate XML reports are helpful, but in their original appearance, they're quite confusing, especially for those who don't enjoy digging into pages of unclassified data.
Here's why XML reports are hard to deal with:
They don't classify your sources

They don't provide a bird's eye view of your email environment

They grow with your sending volumes

They're time-consuming to decypher

They make DMARC implementation progress hard to notice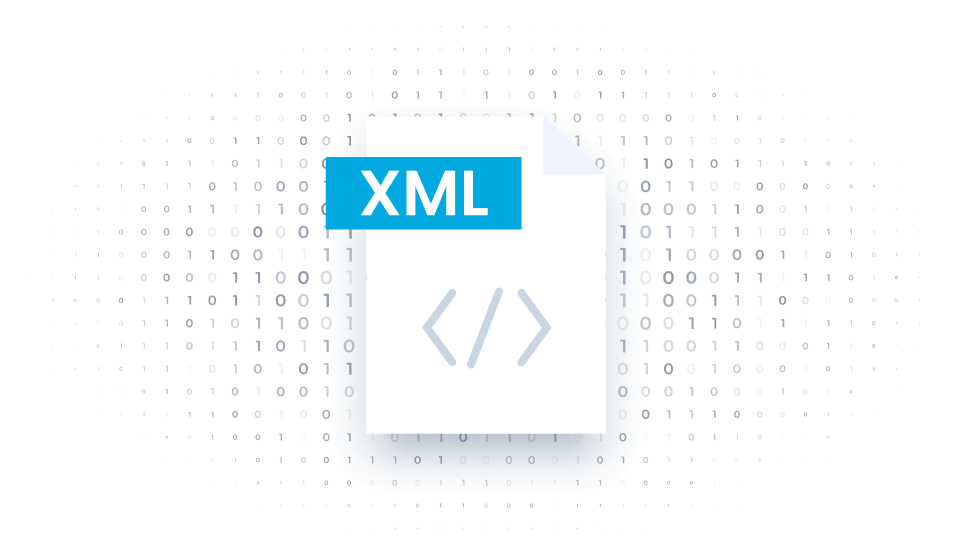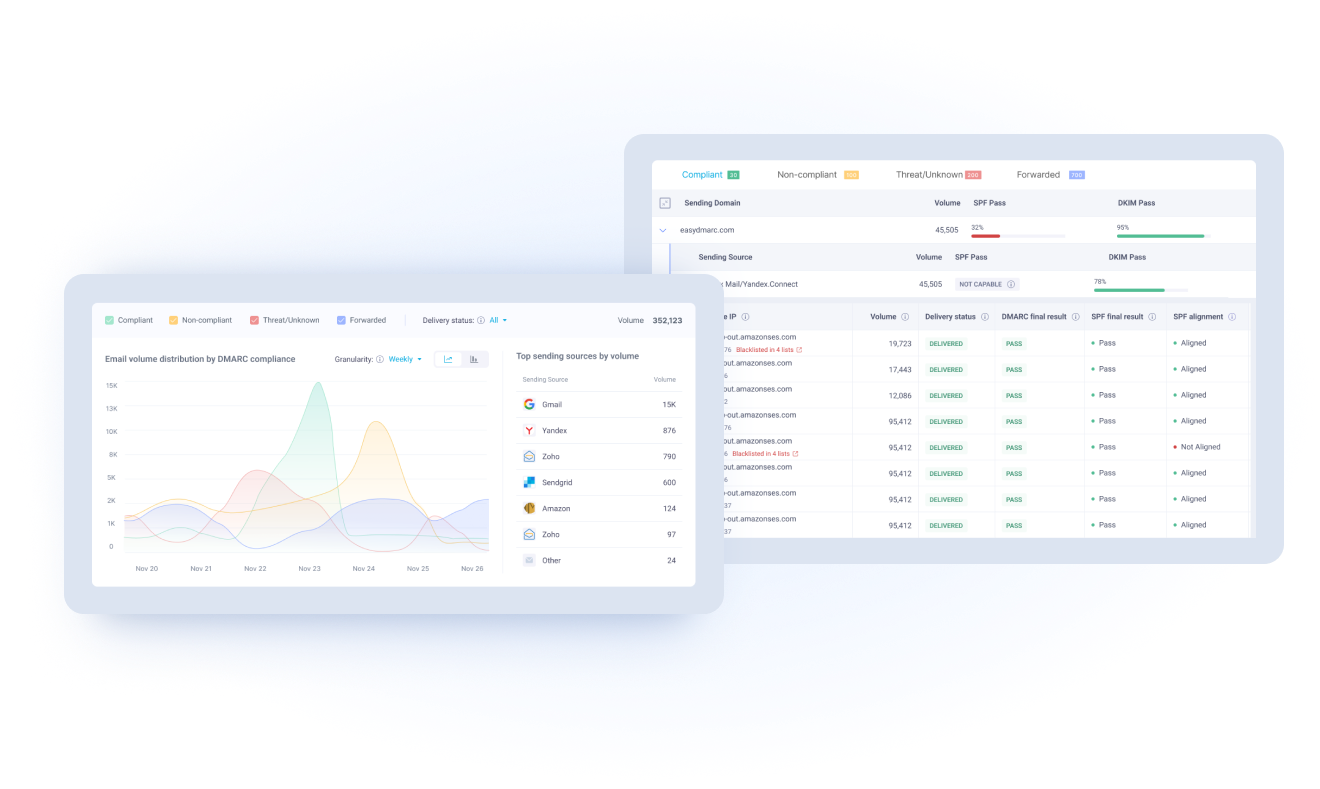 Plain and simple: they're built for machines, not people.
EasyDMARC's Aggregate XML Report Analyzer solves all the issues raw XML files pose. Our smart solution:
Offers a dashboard for situational analysis
Saves your time by classifying your sending sources
Offers filtering options for the raw data.
Stores and allows access to historical data
Stop searching for complex solutions. Take control of your email infrastructure and regain your peace of mind with our smart monitoring and reporting platform.
Frequently Asked Questions
How To Get a DMARC Aggregate Report?
First, set up a DMARC record for your domain and ensure that it contains a "rua" tag mentioning a URI that will be accepting DMARC Aggregate reports. Technically, you can make do with receiving the raw XML tags in your inbox. However, using a DMARC reporting service improves your DMARC enforcement speed and quality by far. DMARC reporting services provide an easy-to-use interface that turns XML files into human-readable charts.
How To Read DMARC Aggregate Reports?
It depends. If you're using the raw XML file, the process is going to be more time consuming and meticulous than if you're using EasyDMARC's Aggregate Report Analyzer.
DMARC aggregate reports provide information about the number of emails sent from your domain, the percentage of those emails that passed authentication, and the rate of those emails that failed authentication. The report also details the sources of emails sent from your domain, including the IP addresses, domains, and email services used.
To read an XML file, you need to find the needed sending source and associated classifiers from the included data. Then see what's causing the trouble and move on to configurations.
In EasyDMARC's Aggregate Reports, you simply need to navigate through tabs that already contain classified data, use simple filters, and make changes to your sending sources quickly and painlessly.
What Are the Benefits of DMARC Aggregate Reports?
DMARC Aggregate Reports offer improved visibility into email authentication, insights into email spoofing attempts, and the ability to identify and block malicious emails. DMARC Aggregate Reports also help to better understand email sender reputation and improve email deliverability rates.
How Often are DMARC Failure Reports Sent?
DMARC failure reports are sent immediately based on your configuration of the "fo" tag. If you're working with the IT department and learning to fix DMARC fails as you go, this feature is pretty valuable, especially if you can understand the data provided on the reports.
What Information Is Included in DMARC Aggregate Reports?
DMARC Aggregate Reports include the following information: domain name, sending IP address, percentage of emails that are passing or failing DMARC, number of emails passing or failing DMARC, number of SPF and DKIM aligned emails, percentage of SPF and DKIM aligned emails, number of emails with neither SPF nor DKIM, percentage of emails with neither SPF nor DKIM, number of emails with DKIM but not SPF, percentage of emails with DKIM but not SPF.
Which One Is Better: DMARC Aggregate Report vs. DMARC Forensic Report?
It's not about being better or worse per se. Both aggregate and failure reports offer helpful data. However, each is better in its own scope. Aggregate reports provide aggregate data on a group of emails, are sent every day by default, don't contain PII (personally identifiable information), and are supported by all DMARC-compliant mailbox providers.
Failure reports provide details of a single email, are sent immediately after failure, and are supported only in some mailbox providers.
Explore All EasyDMARC Tools To Improve Your Domain
Security and Email Deliverability
Lookup tools
Generator tools
Other tools
Join the 45,000+ businesses growing safely with us
Make Your DMARC Journey Simple With EasyDMARC