If you are on this page then you should be well aware of BIMI (Brand Indicators for Message Identification). But probably you're still confused and not sure if you configured it correctly and how to test it. 
Well, you are lucky because you got into the right place.
We will not repeat here the information about BIMI record syntax and logo image format. Instead, we provide you with a short but proven guideline. If needed for more details you can check the RFC.
Step 1: Enforce the DMARC policy
Make sure that domain DMARC policy is set to "reject" or "quarantine". Your domain should send properly authenticated (with SPF and DKIM) emails so that you can safely enforce DMARC policy.
Step 2: Publish the BIMI record
Host your SVG format image logo in place, publicly accessible via HTTPS protocol. Check if the SVG logo is properly displayed in a web browser.
IMPORTANT NOTE  – Is the website, where the logo image is hosted, protected by a system like Cloudflare? Ensure that you do not have a firewall rule that blocks requests to the BIMI SVG file.

Step 3: Get Yahoo or Google mail account
At this time, while BIMI is in the pilot stage, from known mailbox providers; only Yahoo and Google (webmail and Android / iOS mobile apps ) display the BIMI logo. So if you wish to test your BIMI logo but do not have a Yahoo account yet, sign up to get a Yahoo mailbox.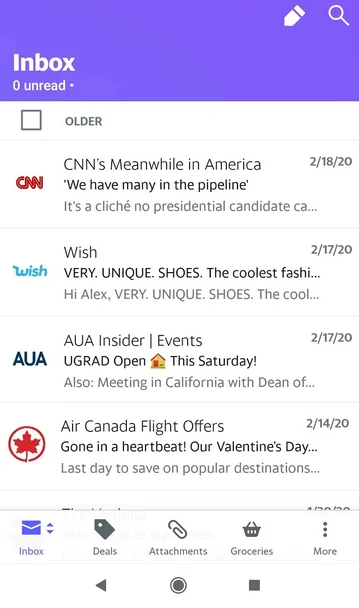 Step 4: Select Right Sender Email Address to Test BIMI logo work
This is the most important step, so please read the below info carefully. 
Yahoo shows the BIMI logo only for emails coming from a bulk sender address with good reputation history

Yahoo shows the BIMI logo only for emails coming from brand/generic sender addresses and does not display logo for email coming from personal email addresses.
For example, you may see the logo in emails that come from [email protected] or [email protected], but you will never see the logo in emails that come from e.g. john.smi[email protected], even if it is a known bulk sender email address.
Step 5: Send bulk email to your Yahoo mailbox
The last step you have to do, to see your logo, is to add your Yahoo email address to the mailing list of your next campaign/newsletter.
It may take from 2 to 7 days until Yahoo start to display your BIMI logo in their mailboxes.
If you do not do bulk sending from a brand or generic email address, you wouldn't be able to test your BIMI logo.
In contrast with Yahoo, please note that Google requires a VMC certificate for displaying the BIMI logo.
If you need help generating or lookup your records you can use EasyDMARC's free tools