When you see "No DMARC record found" or "DMARC record not found" or "DMARC record is missing" that means your domain misses the most effective and powerful email authentication mechanism such as DMARC.
A domain without a DMARC reject policy is not nice, sort of like being naked in the middle of the street.
Henrik Schack
To block fake emails send from that domain. That kind of attacks are known as email spoofing. Attackers can send an email from that exact domain put in From field, because SMTP by default doesn't have any protection against fake "From" addresses.
In this article, we'll show you how to fix "no DMARC record found" statement.


If you're already familiar with the "no DMARC found" problem and want to take immediate actions, go to EasyDMARC free Domain Scanner tool to check your domain and get step by step instructions to solve your email authentication problem:
Why You Need DMARC or Email Authentication to Fight Against Email Scam and Spoofing
To prevent email spoofing all domains must have Email Authentication system. Probably you have heard about SPF and DKIM mechanisms. But the thing is neither SPF nor DKIM alone can't stop the impersonation of your domain and can't prevent email spoofing. DMARC (Domain-based Message Authentication, Reporting & Conformance) comes to rescue. It combines SPF and DKIM mechanisms, and gives 100% protection from exact-domain attacks.
DMARC can protect you from phishing attack. Phishing is the fraudulent attempt to obtain confidential information. By posing as a legitimate individual hackers manipulating victims to perform specific actions. By Verizon Data Breach Investigations Report 2018 Phishing and pretexting represent 93% of breaches. 80% of all breaches involve credentials DBIR.
It is possible you get the mentioned message below with some DMARC check tool:
No DMARC record

No DMARC found

No DMARC record found

DMARC record is missing

DMARC record not found

No DMARC record published

DMARC policy

not enabled

DMARC Quarantine and Reject policy not found

Unable to find DMARC record
It depends on what you want to achieve. There are 2 possible cases
Case 1: Simply get rid of the annoying "No DMARC found" message without understanding the real value of DMARC and any email spoofing protection.
The answer is very simple. Technically fixing "No DMARC record found" literally means adding a TXT DNS record in _dmarc.yourdomain.com subdomain according to DMARC specification. The basic DMARC record can be as simple as the following:
v=DMARC1; p=none; rua=mailto:[email protected]
You are done. You have successfully added your missing DMARC record.
Congratulations, but with that record, you are very far from stopping email spoofing and impersonation attacks. Only adding the record sets DMARC to "p=none," which is only the beginning of your journey.
Case 2: Get 100% protection against email impersonation and spoofing attacks
To achieve 100% protection, you need to understand the mechanics behind the DMARC system and how it works. It's hard to achieve 100% protection against email spoofing. It requires diligence and some time (about two months or longer, depending on how complex your email infrastructure is). Hence, having DMARC p=none won't cut it. Your system will be alerting you of the "DMARC quarantine or reject policy not enabled" problem.
It is hard because if your configuration is not correct, not only fake emails sent by hackers from your domain but also your valid emails can be rejected. It's like having a protected folder that nobody, even you, can access (the folder is very secure, but it is useless if even I can't access it). Our platform EasyDMARC is an easy solution for people like you to avoid risks and safely achieve 100% protection on the challenging but satisfying journey of DMARC deployment.
The journey starts with simply adding a basic DMARC record.


3 Steps to Fix "No DMARC Record Found" Issue
In this section, we've put together a really easy-to-follow guide on how to fix "no DMARC record found."
1. Publish SPF Record
Use EasyDMARC free SPF record generator or any other one to create your record and publish generated record into your DNS.
The SPF record looks like
v=spf1 include:spf.easydmarc.com include:amazonses.com ip4:198.105.215.71/32  -all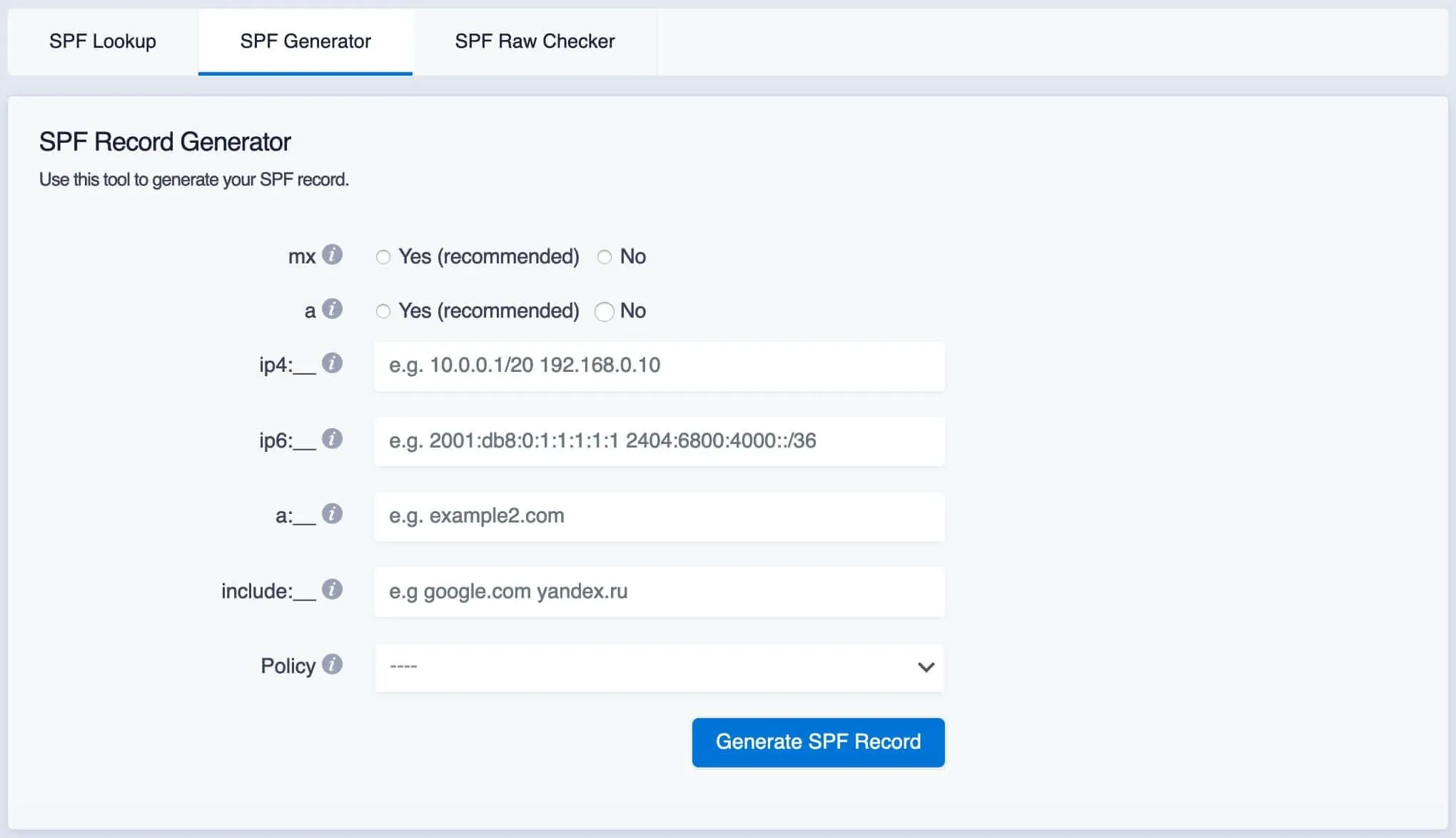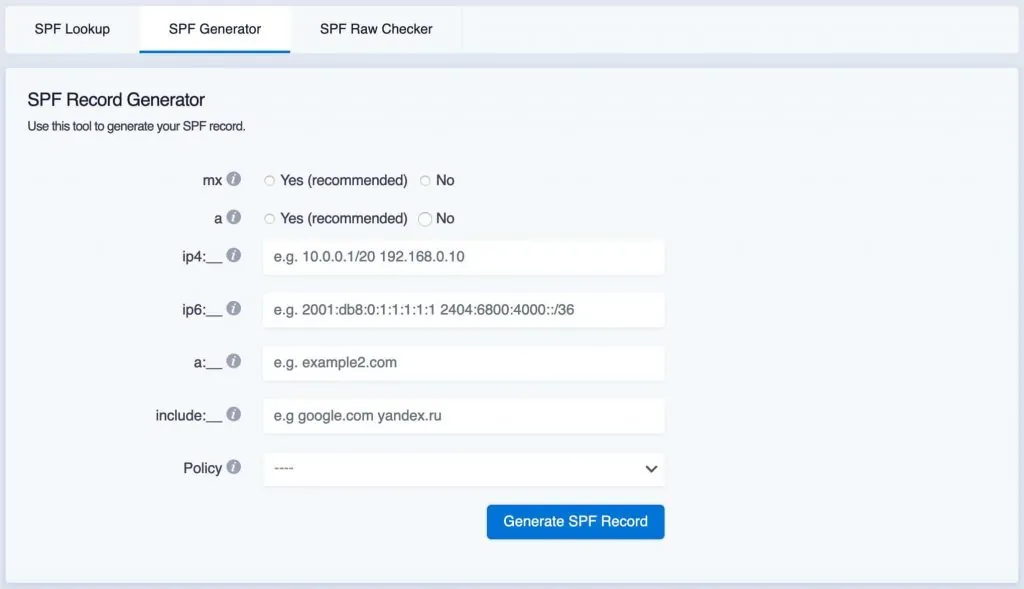 2. Setup DKIM Authentication
Next, you need to configure your mail server. For that you can use EasyDMARC free DKIM record generator for DKIM authentication. Here is an automated script that will help you to configure your Linux mail server with DKIM
Consider to use DKIM record generators to have a right syntax.



3. Publish DMARC Record
Eventually, we are ready to set up the DMARC record. Use EasyDMARC free DMARC record generator and publish the generated record into your DNS.
At first, it is strongly recommended to have a monitoring policy (p=none). After successful monitoring results, the system will, after all, suggest you change the published policy.
Don't use the "p=reject" policy in the beginning, unless you are sure you have the right configuration and visibility in your e-mail infrastructure.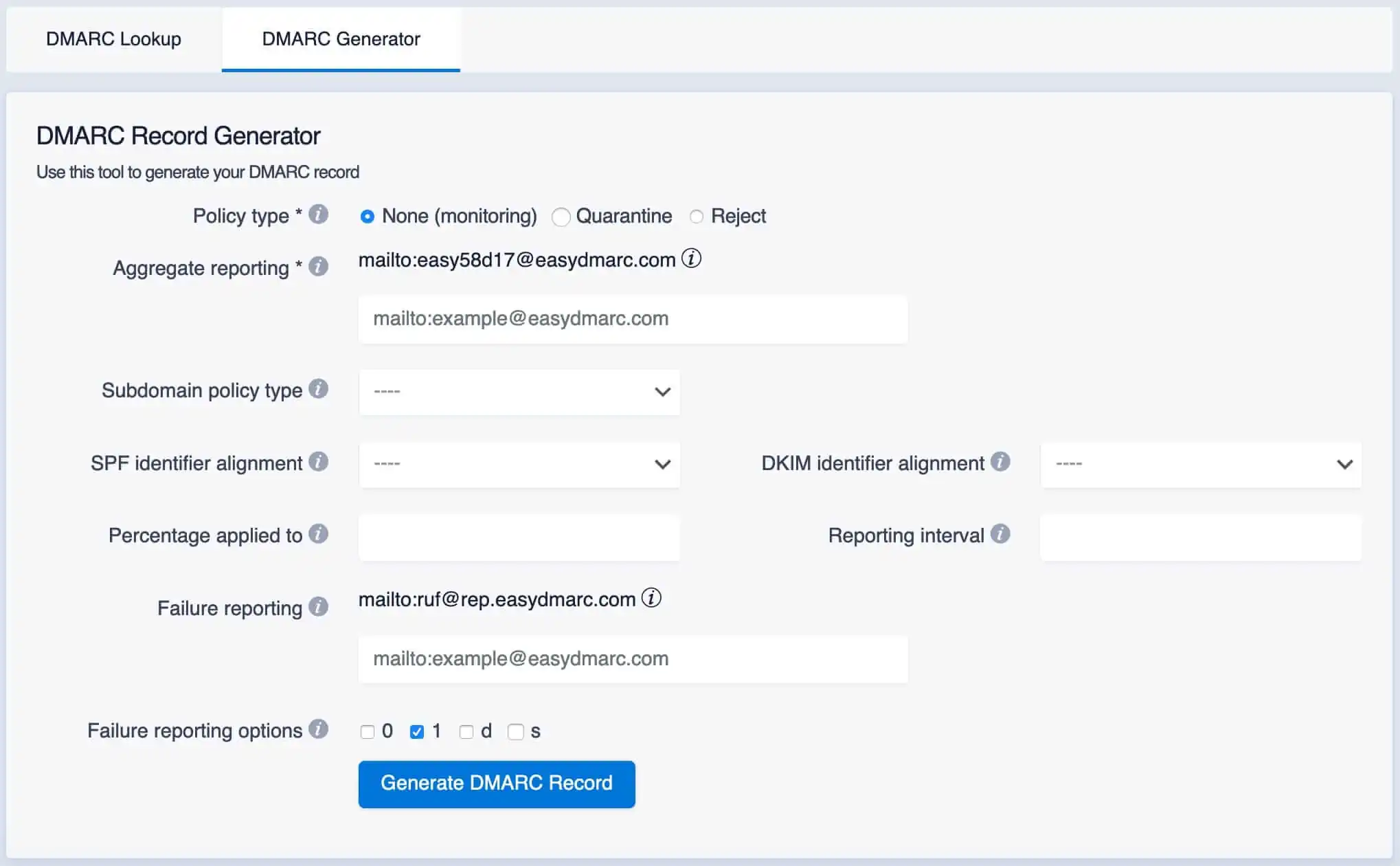 It is very important to stress that neither SPF nor DKIM alone can't prevent cybercriminals to send e-mails using your domain.
Keep in mind that only DMARC record with "p=reject" policy is the most powerful and industry standard e-mail authentication system. However, achieving "p=reject" is hard because putting it in DNS without proper monitoring can get your perfectly valid e-mails to be rejected.
We know how to setup DMARC correctly and protect your domain from phishing without losing any of your emails. You can easily identify and fix your issues by automating your reports with EasyDMARC.
Here is an example of the above mentioned DMARC Aggregate Reports:

EasyDMARC provides all necessary tools for free to deploy your DMARC, DKIM, SPF.
To check your domain's current status and plan the next steps simply use the EasyDMARC Domain Scanner:
These posts will help you setup DMARC records on different DNS providers:
Are you running on a different DNS provider? Write to us and we will gladly help you out with a new post.
To sum up, it's quite easy to set up email authentication and get rid of the annoying "No DMARC record found" message. On the other hand, professionals will do it faster and will secure the quality. Hence our tech support will be glad to solve your email authentication deployment problem, just ask questions!